Idaho State University Homecoming award recipients announced; Alumni Recognition Dinner set Oct. 4
September 16, 2013
ISU Marketing and Communications
Idaho State University will honor current faculty, alumni and supporters with awards during 2013 Homecoming.
Recipients will be honored at the President's Alumni Recognition Dinner at 7 p.m. Friday, Oct. 4, at the Red Lion Hotel in Pocatello, 1555 Pocatello Creek Road. A reception at 6 p.m. will precede the dinner. Those wishing to attend should contact the ISU Alumni Office at (208) 282-3755 or e-mail alumni@isu.edu. The cost is $40 per person.
Award winners are:
• Distinguished Alumnus Award – Douglas Pitman, ISU Foundation Board of Directors member, Jackson, Wyo;
• William J. Bartz Award – Gail and Nannette Siemen, Pocatello;
• Achievement Award – Karen Appleby, Associate Professor, College of Education, Sports Science & Physical Education, Pocatello;
• Distinguished Service Award – George Casper, ISU Director of Events, Pocatello;
• President's Medallion Awards – Edgar Malepeai, Pocatello, Democratic Senate minority leader; Phil and Bekki Meador, Pocatello, owners of Phil Meador Toyota; and ISU Federal Credit Union;
• Young Alumni Award – Bobette Wilhelm, Energy Efficiency and Conservation Analyst for Puget Sound Energy, Bellevue Wash;
• Parade Marshal – Judge Peter McDermott, Pocatello.
Following are the honorees biographies.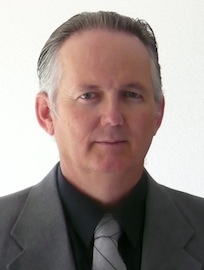 The Distinguished Alumnus Award, given to Douglas Pitman, recognizes exemplary professional and personal contributions resulting in national or international recognition.
Pitman currently serves on the ISU Foundation Board of Directors and is an active and very engaged board member. As one of the original five founders of Micron, Inc., Pitman is highly respected in his field and his achievement nationally and internationally has certainly brought distinction to Idaho State University as his alma mater. Pitman was recognized with the Professional Achievement Award by the College of Technology in 1988. Pitman's generosity for Idaho State University is laudable and he continues to not only provide his financial support but also lends his personal time and talents to the College of Technology.
The William J. Bartz Award recognizes continued support and development of ISU through personal actions, participation in ISU affairs and financial support.
Gail and Nannette Siemen – Alumni of ISU, they have been continuously engaged and supportive of the University since their days as undergraduates. Gail has three degrees from ISU and Nannette has two. If ever an award was created with specific persons in mind, Gail and Nannette fit this perfectly. Retired after 34 years in the education field, Gail continues working with the College of Education as the coordinator of partnership programs. He is in his second stint as a member of the Alumni Board of Directors, he is an inducted member of the ISU Sports Hall of Fame, and he was recognized as the Professional Achievement Award recipient for the College of Education in 1997. Nannette, also retired after a lengthy career in education, primarily in the Head Start program, continues her involvement in K-12 as well as higher education.
Gail and Nannette have been ardent supporters of the Women's Basketball team for many years. They are members of the Bengal Athletic Boosters and have established the Nannette and Gail Siemen Educational Scholarship Endowment that supports students in the early childhood program in the College of Education. They have both been involved in the I Love ISU Scholarship campaign as well as fundraising for Bengal Athletics and the College of Education.
The ISU Achievement Award recognizes personal actions, generosity and self-sacrifice on the behalf of the university by a faculty member. The award was established in 1984.
Karen Appleby- Associate Professor, College of Education, Sports Science and Physical Education – Appleby was recognized as the 2010 ISU Distinguished Teacher, she has been recognized as the Outstanding Collegiate Educator of the Year by the Idaho Association for Health, Physical Education, Recreation and Dance in 2009. She conducts research in teaching and advising, gender issues in sport and quality of life issues in the Master's athlete population. She serves as a sport psychology consultant for team and individual athletes at all levels of competition. She is a driving force and organizer each year for the National Girls and Women in Sports Day as well as supporting these activities through research and community service. She is highly sought after for speaking engagements at conferences nationwide. She advises more than 50 undergraduate and graduate students and is highly respected by her students and her academic peers.
The ISU Distinguished Service Award was established in 2004 to honor ISU staff members who have shown exceptional loyalty to the University through an extended period of employment.
As the ISU Director of Events, George Casper is recognized for his continuous exemplary management of the Stephens Performing Arts Center, Holt Arena, Frazier Hall and all that goes with each of these venues. Casper is a long-time ISU employee who never seeks attention or the spotlight but is the person behind the scenes who makes sure everything is in order and done well. He is a trusted and respected colleague for all who have the pleasure of working with him and that goes for those who work for him as well. Casper's commitment to excellence in all he does and is responsible for is exceptional. He sets the bar high for himself and those who work with him. His work ethic and related achievement is amazing. Casper can be found at two, three or four events daily and never seems overworked. He is always helpful, pleasant and accommodating, regardless of the situation. Casper and his wife, Sheri, have three sons.
The President's Medallion, awarded to Sen. Edgar Malepeai, Phil and Bekki Meador, and ISU Federal Credit Union, was established in 2001 to honor friends and alumni whose outstanding accomplishments and exemplary service and support bring distinction to the University and advance higher education.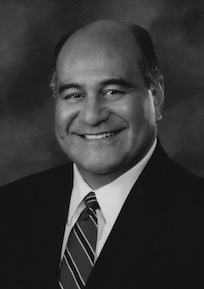 Malepeai, a San Francisco native, came to the Pocatello to play football for Idaho State University. He obtained his Bachelor of Science degree in Education/Social Science in 1975. Malepeai worked on the grass-roots level for years before becoming a teacher, and later, a state lawmaker. He is now retired from two callings. He was a government teacher at Highland High School and a democratic senator from Bannock County in the Idaho State Legislature.
In 2007, he was awarded the Statesman of the Year award from Pi Sigma Alpha, Idaho State University's political science honor society. Students chose him for the honor because of his leadership and commitment to civic dialogue and civility in politics. In 2008, Edgar was named Progressive Elected Official of the Year by the board of directors of United Vision for Idaho and United Action for Idaho. The organization represents Idahoans who "care about justice and democracy." As a legislator, in the 2010 session, his fellow Democrats showed their respect for him by electing Malepeai the Senate minority caucus chair, a position he held from his first session in 2003 through the 2007 session. For the 2011 session, however, his fellow Democrats took it up a notch, asking Malepeai to serve as the Senate minority leader, the top Democratic post in the Idaho Senate.
Edgar has been a staunch advocate, ambassador and supporter of Idaho State. He has given of his time as well as his financial support to the Kasiska College of Health Professions, the Brenda Bertsch Memorial Scholarship, the Bengal Athletic Boosters, I Love ISU and the College of Education. Edgar was married to Brenda Bertsch Malepeai. Brenda lost her battle with a rare cancer in March 2009 after fighting the disease for more than two years. Edgar has three children and two plus grandchildren.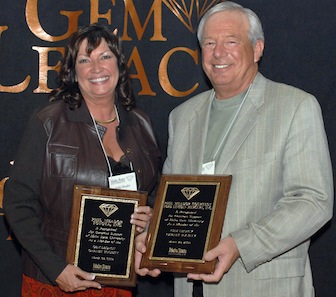 Phil and Bekki Meador are both native Idahoans. Phil is a graduate of the University of Idaho and Bekki from the Kinman Business School in Spokane, Washington. The Meador's came to Pocatello in 1977 and started Phil Meador Toyota, adding Subaru a few years later. Courtesy Ford Lincoln was formed in 1992. The City of Pocatello and its citizens and Idaho State University and its students and faculty have all been touched by the generosity and commitment to our area by Phil and Bekki. For 20 years they were the driving force behind the Biggest Show in Idaho and they continue their philanthropic endeavors for other areas including Run with the Big Dogs, the Cat Nip Tea and the Gate City Grind. Perhaps more than any other area, ISU Athletics has benefited by the Meador's involvement. They were instrumental in the donation of the $20,000 crumb rubber for the ISU soccer field from Courtesy Ford and Ford Motor Company. They are members of the Quarterback Club, the Cage Club and Bekki is a past president of the Bengal Foundation. The Pocatello Animal Shelter and the ISU Football Practice Field each received $20,000 through Phil Meador Toyota and the Toyota Match program. The Meadors share their time as well, having served on multiple ISU search committees for athletic directors, coaches and presidents.
Since its beginning in 1951, the ISU Credit Union is recognized for continuous and substantial support for Idaho State University in all areas ranging from scholarships to individual program support, athletics partnerships and sponsorships. Started by a group of ISU faculty members, the ISU Credit Union has continued to grow, prosper and foster the sense of inclusion for all who do business with them. From the first office in the basement of the Physical Science building on the ISC campus expansion has been the credit union's underlying mantra.
Today, the ISU Credit Union has more than 19,000 members all over the world, most of who began their membership when they were students, faculty or staff at Idaho State University. Assets have grown from the initial $50 beginning to more than $140 million and services that include on-line banking, auto and RV financing, mortgage and home equity loans, credit and debit cards. They also have investment and retirement services, CD's, IRA's, more than 30,000 ATM's, more than 5000 shared branches nationwide and checking accounts that pay interest on the balance. At the ISU Credit Union, they are imagining the future of financial services every day to create solutions that span a lifetime.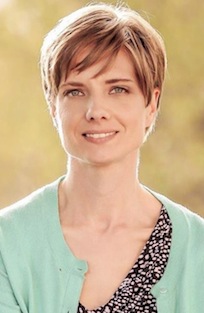 Young Alumni Award – Bobette Wilhelm, Energy Efficiency & Conservation Analyst, Puget Sound Energy, Bellevue, Wash. Wilhelm obtained her Bachelor of Science Degree in Economics from ISU in 2002 and an MS in Agricultural Economics from the University of Idaho in 2004. While a student at ISU, Bobbi was awarded the Outstanding Student Award for the College of Arts and Sciences (now Arts & Letters), she was involved in the Outdoor Program, Golden Key, Mortar Board and was the first student to graduate from ISU with a Co-Curricular Transcript, provided through the IDEA program. She has served as a member of AmeriCorps and organized Alternative Spring Break for Edmonds Community College and assisted in the development of an Environmental Field School, which is now offered by Edmonds Community College for credit. She serves as a volunteer math instructor at Peace on the Streets and served on the Community Matters Vision council for her local United Way.
• Parade Marshals are ISU faculty, staff or alumni who have made a significant impact on the ISU community and enjoy popularity among their colleagues and students.
Even though retired, Judge Peter D. McDermott remains active in the Pocatello and university community. He is an ambassador for ISU in all he does. He and his family have a long and storied legacy with the University. McDermott has established an endowment in the College of Arts & Letters. He remains a life-long member of the Bengal Athletic Boosters and has mentored many pre-law student at ISU. He has also advised many groups, individuals and programs within the university (at no cost) with his legal expertise and advice. McDermott loves ISU. He is highly regarded in the legal profession and has been recognized many times by his peers. Having lived the majority of his life in Pocatello, he is well known in the community. Serving as Homecoming Parade Marshal is a special treat for ISU and extremely well received by the local community and it is an honor that means a great deal to Judge McDermott. ASISU nominated, supported and approved this selection.
###
---
Categories: