Idaho State University gala gives student intern chance to work at a professional level
December 20, 2013
ISU Marketing and Communications
After seven months, an Idaho State University intern is about to see her hard work and creativity pay off.
"It's an experience that will definitely go on my resume," said Rachel Popovich, a senior studying graphic design and photography.
In May of this year, she began a Career Path Internship with ISU's College of Arts and Letters. Popovich was tasked with creating all visual elements for ISU's "Great Gatsby"-themed New Year's Eve Gala, which will be held at the Stephens Performing Arts Center beginning at 6:30 p.m.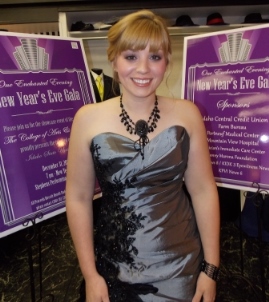 The internship has helped Popovich push herself and get outside of her comfort zone. She has spent over a hundred hours creating posters, flyers, invitations and even coat check tickets, all with a look reminiscent of the roaring '20s. She said her design is simple, but elegant, and will bring some flare to the look of the evening.
"I am very proud of the way everything has turned out," Popovich said.
"What we're hoping is that the students will get a lot of personal, professional experience, so they're really running the entire event," said Kandi Turley-Ames, dean of the College of Arts and Letters.
Turley-Ames said the college is creating opportunities for students to gain real world experience before they finish school, thus making them more valuable in a competitive job market.
"They're developing portfolios and they're developing skill sets that will actually help market them when they graduate from ISU and go out and look for that first job," she said.
"I wish every graduate could have this experience and growth before stepping into a career," Popovich said.
All proceeds from the gala go to scholarships for ISU's visual and performing arts students, providing much-needed resources. Popovich said any scholarship money college students can get is helpful.
"It makes you more excited about your education because it makes you feel like you're taken care of," she said.
"It's not just the fact that I get to go to a party, but I get to go to a very elegant party," she added. "And it's not just for my benefit but for a student's benefit."
Turley-Ames concurred.
"Students in the visual and performing arts often don't receive the same kind of attention or support that other areas receive," Turley-Ames said. "It's really important that we support those students and provide them with an opportunity to receive an outstanding education."
Doors at the Performing Arts Center will open at 6:30 p.m. on Dec. 31. Tickets to the gala are $150. The price covers dinner and drinks for the whole evening, as well as a plethora of entertainment, a keepsake program and a complimentary souvenir photo. Those interested can call 282-3207.
###
---
Categories: