Idaho State University College of Arts and Letters employs computer tablets to better engage students, improve testing integrity
September 9, 2013
ISU Marketing and Communications
Better engaging students and improving testing integrity are two of the main goals being pursued using computer tablets at the Idaho State University College of Arts and Letters.
The College now has seven carts each outfitted with a dozen iPads that are linked together that can be wheeled into classrooms and testing areas for use by students and faculty. The new computer tablets went into use the first day of the fall semester in select classes.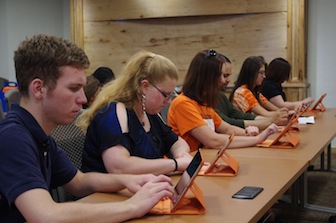 "Using computer tablets and maximizing their effectiveness as teaching tools will result in greater engagement for students," said Kandi Turley-Ames, Dean of the ISU College of Arts and Letters. "This new technology will allow flexibility and access for students."
In order to use computer tablets most effectively to transform teaching and learning, ISU faculty and administrators participated in Professional Development workshops and will continue to monitor and learn about the use of computers as a tool to enriching the overall learning ­and teaching experience.
As the use of mobile technology has grown, testing integrity has become more challenging on the national and global stage. With iPads, teachers in the College of Arts and Letters will be able to remotely lock or unlock the devices in a specific assessment app during testing periods, ensuring all students are on the same activity at the same time in order to maintain testing integrity. ISU may also deploy computer tablets in the College as portable testing centers.
Traditional, online and online-classroom hybrid classes can all benefit by increased testing integrity. For now, the tablets will be used in traditional classroom settings to increase testing integrity, but in the future they may be used in the hybrid classes, and some online classes could require students to come to campus to take tests. The new computer tablets will allow the College to have secure testing sites in many locations on campus, as well as at branch campuses if the program expands as planned. There are also more than 70,000 educational applications available for the computer tablets.
Political science Assistant Professor Jeffrey Callen said he was excited about the potential computer tablets have for contributing to the education of students in the Masters of Public Administration Program.
"The vision of the mobile technology is that it will enable us to focus on the experience of learning," Callen said. "Increasingly, our students need more technological skills. The best way to teach them is to just have them use it ­– not just to teach a class on its use, but engrain in them how to use it."
For example, in Callen's MPA class on administrative process he is teaching this fall, students will use new computer tablets and theories of responsible government and active citizenry to shoot and edit video to create a public service announcement instead of just learning the theories abstractly.
"The computer tablets present a unique opportunity to facilitate classroom instruction, as well as student interaction, assessment and feedback beyond traditional expository lectures, group discussion, and paper-based testing," said Justin Stover, ISU history lecturer who will use computer tablets this fall to teach the class "HIST 2291: The Historian's Craft."
Stover said his classroom instruction will be supplemented by computer applications that re-enforce the course's required texts. In addition, his students can use tablets for note taking, and both Stover and Callen mentioned the devices have quality apps for giving and grading interactive quizzes and tests. Stover said there are numerous other applications available that he'll use to engage and excite students in his classroom.
"I have really enjoyed having the iPads in class," said Jessica McBean, a senior taking a Public Policy Analysis class this fall. "I believe they are helping to modernize our classroom and inform students about new technology."
Dean Turley-Ames and other faculty also believe that computer tablets can be used to better develop online curricula and provide better testing integrity. The ISU College of Arts and Letters has increased the number of online courses it offers by 267 percent over the past two years.
The College of Arts and Letters has created a fund to purchase more computer tablets for students.
"We anticipate the increase in student participation to continue, and the need for additional computer tablets is essential for this growth to occur," said Heidi Jarvis-Grimes, Director of Development for the College of Arts and Letters and Strategic University Initiatives. "Your support will benefit students immediately."
To participate in the program contact Jarvis at 208-282-5362 or jarvheid@isu.edu. More information on the program is also available at www.isu.edu/cal/apple.shtml.
###
---
Categories: