Idaho State University alumna Casidy Robison is now White House intern for the Council on Women and Girls
October 31, 2013
ISU Marketing and Communications
From Pocatello, Idaho, to Washington, D.C., is quite a journey, but it is one that Idaho State University alumna Casidy Robison has undertaken gladly. The former ISU student body president from American Falls is now interning for the Council on Women and Girls in the Office of Public Engagement and Intergovernmental Affairs.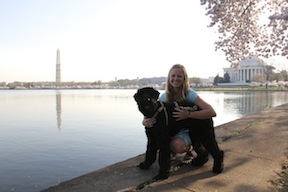 Robison is also a graduate student at The George Washington University. She will graduate this May with a master's degree in Higher Education Administration. Her emphasis is on higher education policy and finance. She is also in the process of applying to doctoral programs to study public policy with a focus on education.
"My experiences at ISU really helped me develop a strong foundation, both personally and professionally. I will always be a proud Bengal, regardless of where I am in the country!" she said.
Between her internship and graduate school, Robison is no stranger to a busy schedule. However, she doesn't take any of it for granted.
"Every morning when I pass through the front gate and see the White House, I am reminded of how lucky I am to be provided this opportunity," Robison said.
During her time at Idaho State University, Robison, whose given name is Jahnke, was a student senator and then president of ASISU. She credits those experiences with preparing her for her work now.
"It was in student government that I discovered a lot about myself; who I was and who I wanted to become in the future," she said.
Her work at the Council on Women and Girls includes policy research, drafting memos and briefs, attending meetings and more. She helps the staff with whatever needs to be done, exposing her to its vast portfolio of work.
Created in 2009, the Council on Women and Girls aims to create equality for women and girls and to ensure legislation drafted is inclusive for them.
"I have been blown away by the individuals we interact with on a daily basis," Robison said. "It is a common occurrence to encounter senior officials in meetings, hallways or even the cafeteria."
Robison was selected from a number of highly qualified applicants. Her prior experience in Washington, D.C., likely helped her to stand out from the field.
After her move to Washington, D.C., Robison interned for Idaho Senator Mike Crapo. That experience led to a job with the Sergeant at Arms, working on the floor of the U.S. Senate.
Not only has Robison had the chance to work in the nation's capital but she also did research in South Africa. As part of her graduate work at the George Washington University, she studied South Africa's post-Apartheid educational system.
Her plans after graduate school are not yet set in stone but Robison does know that she hopes to stay involved in research. Whether in a professorial or governmental capacity, she is excited to see where the future leads her.
With all of her accomplishments and opportunities, Robison does have one experience she still hopes will happen soon.
"I haven't met Bo or Sunny yet," she said of the Obama family's dogs. "They are definitely at the top of my list!"
###
---
Categories: