Idaho researchers earn grant for high-tech tools to study watersheds; Idaho State University among participants
August 2, 2013
ISU Marketing and Communications
MOSCOW, Idaho – Idaho researchers, including those from Idaho State University, are joining with scientists in Nevada and New Mexico to study watersheds in the western United States with the help of advanced computer simulations.
The National Science Foundation has awarded the states a grant for a three-year project to analyze, visualize and explore watersheds. Idaho's $2 million share of the $6 million award will be managed by the statewide Experimental Program to Stimulate Competitive Research, or EPSCoR, which brings together the University of Idaho, Boise State University, Idaho State University and many of the state's two- and four-year higher education institutions.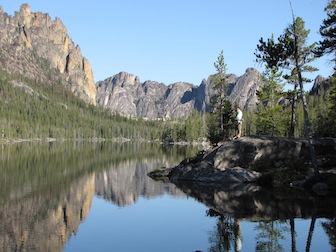 The project builds on a previous award to the states' EPSCoR programs. Idaho, New Mexico and Nevada recently completed a project to build cyber-infrastructure in the region, including better internet access and data-sharing capability.
Now, the states will put the improved connectivity to use to better understand watershed-related issues such as snowpack dynamics, vegetation growth, water quality and the way surface and groundwater interact.
"We laid the foundation, and now our states are able to work together to do some collaborative science, in addition to collaborative outreach and education," said Rick Schumaker, Idaho EPSCoR assistant project director.
An interdisciplinary group of researchers and students from the three states will develop a virtual watershed, giving them new ways to visualize and study how environmental change may affect watersheds and how different hydrologic processes are linked.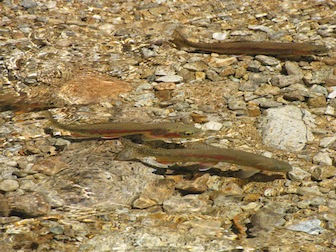 ISU geosciences assistant professor Sarah Godsey said the project will "allow us to be better prepared for the variability of future snowpacks, which can influence fish survival, water supply and fire risk."
The project will use information from real Idaho landscapes, including the Dry Creek Watershed in Boise, at which previous EPSCoR projects established data-gathering instruments.
Professors James McNamara and Alejandro Flores at Boise State University are charged with developing virtual representations of hydrologic conditions in test watersheds using advanced simulation tools. These virtual watershed representations will be visualized using state-of-the-art techniques and facilities at BSU and UI. Advanced communication and data-sharing tools supported by the grant will facilitate rapid collaborations over long distances using the developed virtual watersheds.
Project researchers also will examine how to manage the large amounts of data involved in creating and using the virtual watershed. UI will take the lead on this portion of the project via the Northwest Knowledge Network.
In an effort to involve more faculty and students from Idaho's two- and four-year colleges in EPSCoR, the project also includes a program to bring teams of college students and instructors to Idaho's universities to learn about the latest computer modeling tools. These teams will then help integrate the new technology into their home classrooms.
Jack McIver, vice president for research and economic development at UI, praised the program for its relevance and collaborative nature.
"This project addresses two of the most important problems facing the western region of the United States, the nation and world: understanding and management of watersheds and management of large amounts of data from disparate sources," McIver said. "The collaboration between the different EPSCoR programs and the affiliated universities demonstrates the importance of these issues and the willingness of different universities to work together to address important problems and educate future leaders in these critical areas."
# # #
Media Contact: Tara Roberts, University Communications, (208) 885-7725, troberts@uidaho.edu; Chris Gabettas, Idaho State University Communications, (208) 334-3131, gabechri@isu.edu; Sherry Squires, Boise State University Communications, (208) 426-1563, ssquires@boisestate.edu
---
Categories: