Art exhibit at Idaho State University New Year's Eve Gala will showcase work of ISU art students
December 12, 2013
ISU Marketing and Communications
Artists look at the world differently.
"It's part of who I am," said Lori McPherson, graduate teaching assistant and graduate art student at Idaho State University. "When you're an artist, you're an artist from about 5 years old. I will never be anything different."
People will get a chance to experience some of McPherson's work this New Year's Eve at the Idaho State University New Year's Eve Gala.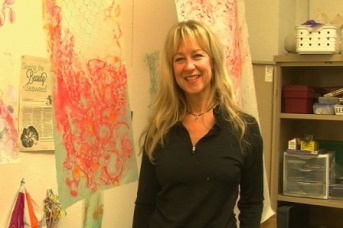 An art exhibit will be located in the Black Box Theatre at the Stephens Performing Arts Center as part of the gala. The exhibit will not only showcase McPherson's art but also work by student Kristol Coker and several photography students.
All of the proceeds from the gala go to scholarships for the visual and performing arts students. McPherson said art students need the support.
"So many students come in and they don't initially realize how much work it is to get a degree," she said. "It makes financial aid and scholarships that much more important."
McPherson's paintings are transparent and will be hung in the windows using magnets. She said she loves the ocean and takes a lot of her inspiration from it. The transparency helps give the work fluidity and a sense of the beauty she sees in it.
There will be pedestals on the theatre's floor displaying Coker's sculptures.
"There's an element of abstraction in [Coker's] work but also a human form," said Ryan Babcock, assistant lecturer and director of the John B. Davis Gallery at ISU.
Pictures from the photography students will be hung between McPherson's paintings.
"If you look at the work of the 1920s, modernism was already established," Babcock said, "so a lot of the work the students are doing fits that time period."
A slideshow featuring work from art students past and present will run on the screen in the back of the theatre. A compilation of '20s-era music will play softly in the background, completing the '20s ambiance.
"I like that [the gala] gives the public the opportunity to recognize what we're doing in the program," Babcock said. "This event will hopefully make us stronger."
Tickets are $150 to the gala that begins at 7 p.m. Those interested call 282-3207.
###
---
Categories: