Rex Force named associate dean for clinical research for Idaho State University Division of Health Sciences
June 28, 2012
ISU Marketing and Communications
Rex Force, Pharm.D., has been named the associate dean for clinical research in the Idaho State University Division of Health Sciences and will head ISU's new Idaho Center for Health Research.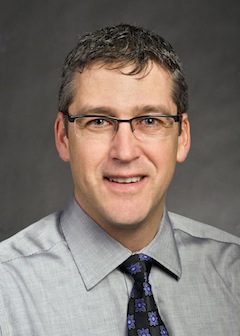 "The faculty across the Division of Health Sciences is committed to increasing our research profile," said Linda Hatzenbuehler, associate vice president and executive dean for the ISU Division of Health Sciences. "Developing this position and staffing it with an individual of Dr. Force's background and expertise is a key element in achieving our goal."
Force, a professor of pharmacy practice and family medicine, also directs the ISU Family Medicine Clinical Research Center and has acted as interim associate dean for clinical research since last November.
"Our new office is helping to support health-related research across both campuses: in Pocatello and at ISU-Meridian," Force said. "We'll be providing a variety of different services to the ISU Division of Health Sciences, including supporting the grant funding process from beginning to end."
The center will help researchers with the "pre-award process," helping to identify grant-funding opportunities and assisting with grant writing. It will also offer budgetary assistance, project planning, project management assistance and reporting.
Force and the center are also cataloging the expertise of faculty and staff in the Division of Health Science to help with research collaboration among different parties.
Force is also charged with creating and maintaining connections with community health partners such as clinics, hospitals and other health organizations "across the state and region and even nationally."
"I think as the premier health institution in the state we need to have a presence throughout the state as it relates to research," Force said. "We all have important missions within our fields and it all requires research to move health care forward. We have a tremendous amount of research capability on our campuses and we need to maximize it to better fulfill our health mission and improve the health of Idahoans."
Force earned his Bachelor of Science Degree in pharmacy from Oregon State University and his Pharm.D. degree from the University of Texas, after which he completed a clinical research fellowship at Ohio State University.
Force has been active in the American College of Clinical Pharmacy. He has authored more than 60 professional and research publications, and speaks regularly at professional meetings.
Force and his collaborators have received grants and contracts in excess of $5 million while at ISU. Presently, he is the site principal investigator of two research studies funded by the National Institutes of Health. His research interests focus on the treatment of diabetes, high blood pressure and cholesterol. His work has also evaluated innovative methods for health care delivery and medication safety. He has been on the faculty at Idaho State University since 1993.
###
---
Categories: