ISU Idaho Museum of Natural History's Thorne-Ferrel retiring after 28 years of delivering educational outreach
July 26, 2012
ISU Marketing and Communications
Twenty-eight years and approximately 237,451 school children and numerous Museum programs later, Rebecca Thorne-Ferrel is retiring from the Idaho Museum of Natural History as its Education Program Coordinator.
"It was a truly good time," said Thorne-Ferrel, who started at the IMNH in 1984 and will be leaving the Museum in early August. "I loved it absolutely. There is nothing more gratifying than guiding children to understand the world around them."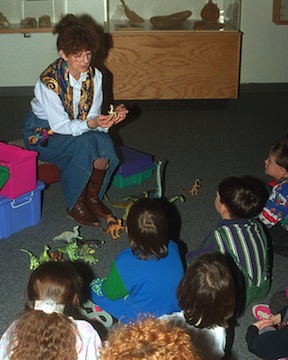 Thorne-Ferrel's outreach programs were delivered to more than 53,000 children throughout the Intermountain West. And most of it was fun.
"I loved doing outreach and going out to schools and taking objects from our teaching collections," said Thorne-Ferrel, who designed more than 2,300 science-related activities for children in K-12 programs. "I always loved teaching kindergarten and preschoolers. Teaching first- and second-graders about dinosaurs was always so much fun. I also like working with Science Trek and the teachers in the schools. The list of what I enjoyed goes on and on."
She created the IMNH's Educational Resource Center, which offers programs such as the Natural History Academy, Natural Science Inquiries Series, Pint-Sized Science Academy, Science in Depth, Summer Science Snack, and Forays into the Field, a weeklong fieldwork experience in science education for junior high and high school-aged girls. She also created Science Trek, an overnight adventure for third- through fifth-grade children to explore the frontiers of science, which received awards from the National Education Television Association.
"None of this would have been possible without the support of so many people who helped me (including) the docents that helped with school groups, teachers who brought their students, volunteers who taught some of the classes and the scientists who stayed up at night to help with Science Trek, and many others," Thorne-Ferrel said. "None of it would have happened without their dedication."
One of those volunteers, Judy Kirkham of Blackfoot, who has volunteered as a Museum docent for 22 years, shared her memories of working with Thorne-Ferrel.
"I was impressed from the very start," Kirkham said. "She knows so much about so many things and her organizational ability is remarkable – she gets events together like nothing I've ever seen. She also has a special talent with really young people. They sit there and they're so quiet. Most people don't get that kind of attention from children and it is a respect you don't often see."
Thorne-Ferrel will be leaving several legacies at the Museum, including a significant teaching collection.
"Her office is filled with tubs with specimens including anything from rocks to fossils to bones she used to teach children and she checks out to teachers," Kirkham said. "She'd go out on outreach trips, which could be a real adventure going to schools way out in the Pahsimeroi (Valley) and all over the place, sometimes in winter. I always felt she went above and beyond anything you'd expect."
Thorne-Ferrel said she firmly believes that learning is a lifelong process; she has taught classes in the College of Education, mentored university students through internships at the Museum, and developed programs for New Knowledge Adventures, a community-based group of older citizens.
Two programs that characterize her interdisciplinary, cross-generational approach to delivering science were supported by the Institute of Museums and Library Services and the National Science Foundation. "Idaho Geology Outreach" focuses on working with earth sciences teachers to augment the school curriculum with online resources and through visits to the Museum. "Evaluating the Effects of the Alamo Impact Event on Carbonate Platform Recovery and Regional Tectonics: A Research Focus for Educators in the Great Basin" involves layering field work experiences for undergraduate and graduate students with authentic hands-on field experiences for high school girls and teacher workshops.
In 1986–87 Thorne-Ferrel received a Kellogg Fellowship to the Field Museum in Chicago that helped shape her role as a museum educator. Her professional contributions also were acknowledged by the Idaho Academy of Science in 2005 as the recipient of the Distinguished Science Communicator Award.
"I think of the Museum as a great resource for the community," Thorne-Ferrel said. "I'm not sure the community fully understands the treasure we hold here, not only for classes, but for the exhibits and collections we hold. There is a treasure here for the greater Southeast Idaho Community."
A reception to honor and thank Thorne-Ferrel for her outstanding dedication to the community will be held from 1 to 3 p.m. Friday, Aug. 3, at the Idaho Museum of Natural History Conference Room. All are welcome.
###
---
Categories: