Idaho State University Theatre/Dance, Music departments teaming up to present 'Into the Woods' April 6 -9, 12-14
March 12, 2012
ISU Marketing and Communications
The Idaho State University theatre and dance department and music department are teaming up to present the award-winning musical "Into the Woods" at 7:30 p.m. April 6, 7, 9, 12, 13 and 14 inside the Beverly B. Bistline Theatre at the Stephens Performing Arts Center.
Stephen Sondheim's Tony Award-winning musical, "Into the Woods" intertwines the plots of several Grimm fairy tales but with an added twist.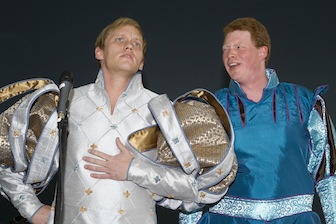 The main characters come from "Little Red Riding Hood," "Jack and the Beanstalk," "Rapunzel," and "Cinderella." They are tied together by James Lapine's more original story involving a baker and his wife. The show covers multiple themes including growing up, relationships, accepting responsibility, morality, and wish fulfillment and its effects.
"The production, thus far, has been rewarding and challenging, at the same time," said Sherri Dienstfrey, director of the production. "I'm adoring the experience and I look forward to the finished product."
The cast is made up of 35 individuals. Chad Gross is the technical director; Tara Young is the costume designer, Brett Harwood is the set designer; Lauralee Zimmerly is the choreographer, Julie Sorensen is the orchestra conductor, and Kathleen Lane and Diana Livingston Friedley are the musical directors.
"The audience will most likely feel uncomfortable with the Wolf's tawdry 'Hello, Little Girl' in Act I; laugh with the Prince's 'Agony' number, as courting from the male perspective can be complicated; and empathize with the witch and her genuine concern for what we say to our children in her Act II 'Lament,'" Friedley said.
"Many of the songs repeat themes that either mutate or are used again in their original form," Friedley continued. "In my opinion, one of the most difficult numbers in the score is 'Your Fault.' Sondheim has musically depicted how mob-mentality can lead to frenetic discourse, in this case a short, repeated musical motive is brilliantly tossed from character to character."
Tickets are on sale now and available at the box office at the Stephens Performing Arts Center, or by calling 282-3595. Tickets can also be purchased online at www.isu.edu/tickets or at Vickers Western Stores in Pocatello and Idaho Falls. Prices are $15 for adults, $9 for pre-college students, $7 for ISU students with valid Bengal IDs, and $9 for group tickets of 10 or more people. For more information contact the Stephens Center Box Office at 282-3595.
###
---
Categories: