Idaho State University College Pharmacy Operation Diabetes wins first place in national competition
March 16, 2012
ISU Marketing and Communications
The Idaho State University College of Pharmacy has won first place in the national competition for Operation Diabetes from the American Pharmacists Association (APhA).
Operation Diabetes is a student outreach program that involves screening the public for diabetes and offering education on management of the disease. A screening can involve a blood glucose test, blood pressure check, cholesterol check and individualized counseling. Student Pharmacists partner with other student health-care providers to offer collaborative patient care services. Participants are then given information or referred to a health care professional for further help.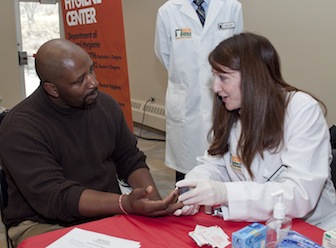 "These services are offered for free and are paid for by the students through fundraising efforts and donations," said Paul Cady, Dean of the College of Pharmacy. "Students participate in health screenings throughout Southeast Idaho and the Treasure Valley. The services have been offered in English and Spanish."
The annual report of these efforts submitted to the APhA is judged for the competition. ISU has won the regional recognition many times, but this is the first time it has won first place in the national level competition.
Operation Diabetes is just one of the outreach projects that the College of Pharmacy students participate in. Other programs include Operation Heart, Operation Immunization, Heartburn Awareness, Meth Awareness and Poison Prevention. Through these efforts, students at the College of Pharmacy deliver direct patient care to 4,000 people every year and more than 120,000 people are reached annually through all of the College's community education efforts.
"Every blood pressure check, every blood glucose monitoring, every immunization makes a difference," Cady said. "It benefits the patient but also helps create a compassionate, well-educated pharmacist that is invested in patient health."
###
---
Categories: