Idaho State University College of Education presents 2012 Kole-McGuffey Prize to Bruce Kusch
May 4, 2012
ISU Marketing and Communications
Idaho State University's College of Education has announced that Bruce Kusch is the 2012 Kole-McGuffey Prize Recipient.
The Peter C. Kole-William H. McGuffey Prize for Excellence in Education Research is awarded on an annual basis to a graduate student in the College of Education. A $10,000 prize is given to a student to complete a "ground-breaking" research study as part of a graduate program. Peter and Nancy Kole have been active friends of Idaho State University and continue to support the academic work and deserving students in the College of Education.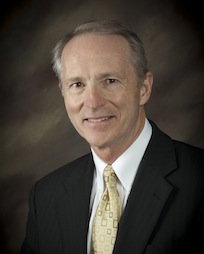 Kusch currently serves as the associate academic vice president for curriculum at Brigham Young University-Idaho in Rexburg. Prior to joining the BYU-Idaho faculty, Kusch worked in the high technology industry in Silicon Valley, Calif., in various sales, marketing, and executive roles for companies such as Hitachi, Logitech and IBM.
In addition to his professional endeavors, Kusch has served on a number of community boards, including the Upper Valley United Way, and as a member of the Board of Trustees for Madison Memorial Hospital. He also currently serves on the Board of Directors for a Rexburg-area software developer.
Kusch earned bachelor's and master's degrees in business administration from the University of Phoenix and DeVry University, respectively. He completed his doctoral studies at Idaho State University earning a doctorate in instructional design in November 2011.
His dissertation, titled, "Interaction by Design: Social Connectedness, Social Presence, and Sense of Community in Online University General Education Courses," examined the effect of Reusable Learning Object (RLO) designed to facilitate a high level of student-to-student social interaction in the online learning environment. Findings from the study will contribute to the literature, providing guidelines for instructional designers on methods and approaches for creating an optimal learning environment and experience for participants.
Kusch's personal interests include keeping up with his grandchildren, running, fly-fishing, and reading.
###
---
Categories: