2012 Grammy-nominated Jenny Oaks Baker to perform March 17 at Idaho State University
February 23, 2012
ISU Marketing and Communications
Idaho State University's "A Season of Note" fine arts series will present Jenny Oaks Baker, who was nominated this year for a Grammy Award for her album "Wish upon a Star: a Tribute To The Music of Walt Disney" – at 7:30 p.m. March 17 in the Joseph C. and Cheryl H. Jensen Grand Concert Hall in the L.E. and Thelma E. Stephens Performing Arts Center.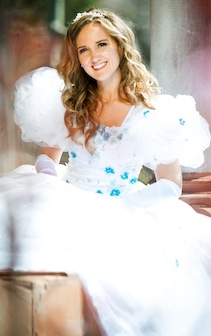 Baker will perform "A Tribute to the Music of Walt Disney" with the Teton Chamber Orchestra, featuring some of Disney's most magical moments including "When You Wish Upon a Star," "Mary Poppins Suite," "Can You Feel Love" and "Once Upon a Dream."
Her newest album was among five finalists in this year's Grammy Awards' Best Pop Instrumental Album category. The songs on the album were produced and arranged by Emmy-Award-winning composer Kurt Bestor.
Baker is one an accomplished classical violinists. She began playing the violin at age four, and made her solo debut in 1983 when she was 8 years old. She received a bachelor's degree in violin performance from the Curtis Institute of Music in Philadelphia and Master of Music degree from the Juilliard School in New York City. For more information on her and her music, visit the Website www.jennyoaksbaker.com.
Ticket prices are $24 for the lower level and $20 for the upper level at Jensen Hall. Tickets can be purchased at the Stephens Performing Arts Center Box Office, open from 10 a.m. to 4:30 p.m. Tickets can also be purchased over the phone at (208) 282-3595 or online at www.isu.edu/tickets. They can also be purchased at Vickers Western Stores in Pocatello or Idaho Falls. The Box Office is open one hour prior to show times.
###
---
Categories: