Yemen photography exhibit opens Sept. 11 at Idaho State University Transition Gallery
September 7, 2012
ISU Marketing and Communications
The Idaho State University Involvement Center will present the photographic exhibit "Of Yemen: the Culture and People" Sept. 11–Oct. 6 in the Transition Gallery located on the first floor of the Pond Student Union.
The exhibit's opening reception will run from 6 to 8 p.m. on Sept. 11. The exhibit is a collaborative effort by Jacquelaine Wong and Juan Herrero.
Through the eyes of camera, the presenters said they want to show the life of the Yemenis and one of the most hospitable cultures in the world. In addition, the photographs and textiles are up for sell to support exhibitors' work in Yemen.
"I lost myself in Yemen and I found myself in Yemen. Yemenis always say if you drink the water of Yemen, you would always come back," Wong said.
"This is very true because this is the country where I left heart," she continued, "I stayed in Yemen for four months and it was too short. I did not have enough time to learn about the country – it is inordinately diverse in religions, ethnicities, culture and tribes."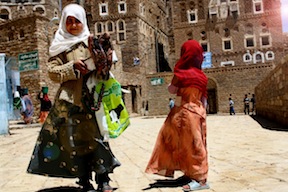 Wong was born in China and raised in the United States. She obtained her Master of Arts degree in Middle Eastern Politics from University of Exeter and a Bachelor of Arts degree from ISU. While in Yemen, she studied Arabic and worked for a local non-profit organization and a think tank. She hopes to continue her Arabic studies and will return to Yemen at the end of the year. She also started a travel blog All Sana'a (www.allsanaa.wordpress.com) to provide travelers and foreign expatriates information of the capital of Yemen, Sana'a.
Herrero was born in La Coruna, Spain. He is a freelance photographer based in Sana'a, Yemen. Represented by Cordon Press agency in Spain, he devotes his time to the social reportage, video documentaries, advertising assignments and cooperation projects in developing countries. His artworks have been published in magazines around Spain and Argentina like DT, Interviú, Surf Europe, etc. Check out his artwork at www.juanherrerophoto.com.
The Transition Gallery hours are 10 a.m.–8 p.m. Monday-Friday.
For more information, contact Corinne McCullough at 282-3451.
###
---
Categories: