Snake River New Horizons Band joins with Idaho State University Symphonic Band in concert Oct. 3
October 1, 2012
ISU Marketing and Communications
The Idaho State University Symphonic Band will be joined by the Snake River New Horizons Band in a special performance on Wednesday, Oct. 3, at 7:30 p.m. in the ISU Stephens Performing Arts Center's Jensen Grand Concert Hall.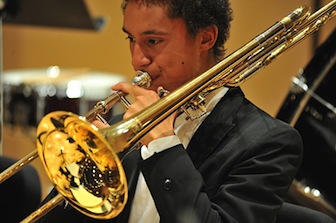 The Snake River New Horizons Band is an adult beginner ensemble new to the Pocatello area. Organized by Pocatellan John Meiners, this group first met in September 2011. They are part of a larger adult band movement, New Horizons Music, an organization formed in 1991 whose primary mission is to serve beginning musicians older than 50. They are also part of New Knowledge Adventures and the Continuing Education Department at ISU. They meet twice a week at the ISU Continuing Education Building.
The Snake River New Horizons Band welcomes all levels of musicians, even new musicians who have never played before.
For this program, the band will perform "Singing the Blues," "Fires of Mazama," "Southern Appalachian Folksong Suite" and the Duke Ellington classic "Satin Doll."
The Idaho State University Symphonic Band will perform "Folk Song Suite" by Ralph Vaughan Williams, "Symphony No. 1" by Daniel Bukvich, "Ave Maria" by Anton Bruckner, "Sweet Like That" by Christopher Theofanidis, "Courtly Airs and Dances" by Ron Nelson and "The Fairest of the Fair" march by John Phillip Sousa.
The Symphonic Band is under the direction of Patrick Brooks, ISU director of bands.
Ticket prices for ISU Bands concerts are as $8 adults, $6 ISU faculty and staff, $4 pre-college students and free to ISU students. Children under the age of 6 will not be admitted into concerts.
For more information on this concert or about the ISU Bands, call Brooks at 282-3147.
###
---
Categories: