New Idaho Geological Survey Map a boon to state's economic development; Idaho State University plays large role in its creation
October 17, 2012
ISU Marketing and Communications
Story written by: Paula Davenport, University of Idaho Communications-north, Moscow, Idaho
MOSCOW – Map enthusiasts, geoscientists and resource managers this week will welcome the Idaho Geological Survey's first release in 35 years of an all-encompassing geologic map of the Gem State.
Geologic maps – in addition to showing regular features like mountains, rivers, plains, towns and roads – include details on the distribution, nature and age relationships of rocks, faults and strata.
A hydrogeologist could consult the map, for example, to determine the type of substrate in which a region's water is developed. Conservation biologists might refer to it for information on wildlife habitats. The Idaho Transportation Department would find valuable specifics on road construction materials and highways that are most likely to experience geologic hazards such as dangerous washouts and landslides.
"This new state map can help guide resource management and development for minerals and energy resources at a regional scale. The compilation map will guide the users to additional more detailed references. Timing of the new map's release coincides with Geologic Map Day of Earth Science Week, a public awareness campaign that reaches millions of people each year," said Roy Breckenridge, the state geologist who directs the Idaho Geological Survey, or IGS, based at the University of Idaho in Moscow.
The Geologic Map of Idaho is the culmination of 10 years of painstaking data compilation, cartography, digitization and countless hours of labor by a dozen experts.
Drawn from nearly 100 sources, the vibrant, computer-generated masterpiece is rendered in both print and GIS formats, the later of which will allow online users to query the map's database to locate such features as active faults and specific types of rocks. A booklet of explanatory information accompanies the map and includes an index of the map's many sources, which can be consulted for more detailed geologic information.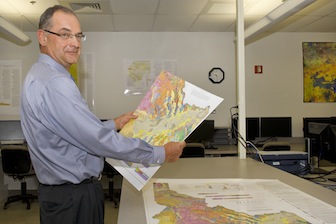 IGS Geologist Reed S. Lewis headed the project and created six cross sections as schematic diagrams – also shown on the map – that help illustrate the upper 15 kilometers of the earth's crust, telling the story of that region's geologic history from 2.7 billion years ago to today.
"This new map updates our understanding of Idaho geology. Measuring three-by-four feet, it makes a great addition in K-12 and college classrooms. It really makes Idaho's geology accessible to the general public," said Paul K. Link, an Idaho State University geosciences professor who played an instrumental role in bringing the map to fruition. A strong component of IGS connects K-12 classrooms with educational resources on geology.
Loudon R. Stanford, a geologist and digital cartographer at IGS, manipulated the map to highlight the surface features of the state and allowed consistent portrayal of surficial deposits across Idaho.
Sean P. Long, who is one of the four co-authors and a former ISU graduate student, is now employed by the Nevada Bureau of Mines and Geology. Seed money from an Idaho State Board of Education Technology Incentive grant and the National Science Foundation helped jumpstart the project, said ISU's Link, recipient of the grants.
Jack McIver, U-Idaho's vice president of research and economic development, said long-term partnerships and collaborations like this one demonstrate their value and importance to industry, commerce, government, environmental stewardship and education.
The project encompasses recent mapping by IGS, funded in part by competitive grants from the U.S. Geological Survey's STATEMAP component of the National Cooperative Geologic Mapping Program.
The J.R. Simplot Co., Midas Gold Inc., the Rocky Mountain Section of the American Association of Petroleum Geologists, Thunder Mountain Gold Inc., Intermountain Gas Co., TD Well Service LLC, the University of Idaho Geological Sciences department and the U.S. Bureau of Land Management are among the additional sponsors of the project.
Maps may be purchased through IGS starting Oct. 19. Cost is $20, plus any shipping and handling if mailed. For more information, visit www. idahogeology.org. Send email to igs@uidaho.edu or call 208-885-7991.
###
---
Categories: