ISU Professor Meldrum proposes to build 50-foot airship to aid in research efforts
December 5, 2012
ISU Marketing and Communications
Idaho State University biological sciences professor Jeff Meldrum has began fundraising to build an unmanned airship that he proposes to use to conduct aerial surveys of areas where sasquatch sightings have been reported.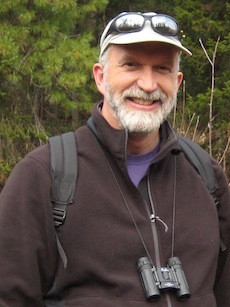 Known as the Falcon Project, Meldrum is teaming with Utah entrepreneur William Barnes and Stephen Barkley of Remote Aerial Tripod Specialists, to build the 50-feet wide aircraft that will be equipped with sophisticated high-resolution, customized thermal imaging cameras, designed and built by Gary Strahan, of Infrared Cameras Inc.
This proposed project has already received wide publicity in various media outlets across the globe and evoked much public interest.
"This will be an airship of specialized design and instrumentation to conduct aerial wildlife surveys, in this case to identify sasquatch," Meldrum said. "Looking for these rare and elusive primates is like looking for the proverbial needle in a haystack in the vast forests of North America. The challenge lies in their natural history and behavior: nocturnal, solitary, far-ranging, generalized diet, intelligent."
The helium-filled airship will be of a "catamaran" design with dual cells for increased stability, and will be capable of supporting 75 pounds of equipment. Barkley has designed its unique propulsion system.
"The aircraft will offer stealth and maneuverability, allowing us to peer directly down through the forest canopy," Meldrum said. "It is essentially silent and can fly at considerable altitude, surveying the forest floor from the night sky, allowing us to track and photograph a target once it is identified, without disturbing it."
Meldrum said the airship will have other potential applications, such as surveying less controversial wildlife species, or assessing forest health. Possible areas to be explored include the temperate rainforests of Alberta, Canada, where the airship will be constructed, and the vast coastline of the Pacific Northwest. A number of factors will go into the selection of specific deployment sites.
An account has been established in the ISU Foundation for interested parties to make tax-deductible donations to the project. Send to: The Falcon Project (Fund #901) Attn: Janet Schubert, COSE Development Officer, ISU Foundation, 921 S 8th Ave., Stop 8050, Pocatello, ID 83209-8050. Barnes and Meldrum are also approaching corporate sponsors for funding. Some companies have already offered financial and marketing support.
In addition, Meldrum said he has been approached by several networks and production studios about the making of a documentary program featuring this project. Negotiations are underway.
"As we wait anxiously for the outcomes of the ongoing DNA studies, we are preparing for the next phase of field research," Meldrum said. "The Falcon Project takes the search for sasquatch to the next level. Aerial survey with coordinated on-the-ground verification, has potential to conclusively identify sasquatch, and furthermore facilitate a more penetrating investigation into the nature of this mysterious species."
For more information on this project, contact Meldrum at 208-282-4379.
###
---
Categories: