Idaho State University's Leadership Development Program gives back to the community
December 7, 2012
ISU Marketing and Communications
Idaho State University Leadership Development Program group members have been giving back to the Pocatello community by volunteering time with Toys for Tots and collecting hundreds of pounds of food for the Idaho Food Bank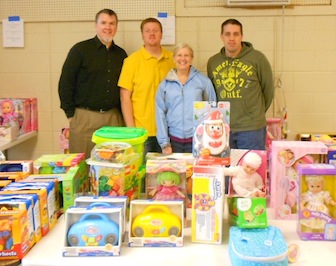 Starting in October, the group started collecting food on campus for the Idaho Food Bank and will continue to through Dec. 31. They have 25 donation locations throughout campus, and have already collected a substantial amount of food and are encouraging others to give generously.
The group will also be volunteering more than 140 hours of time with Toys for Tots. They started Nov. 30 and will participate through Christmas.
The Leadership Development group consists of current and upcoming leaders at Idaho State University. They complete a 15-week program designed to make them well-rounded leaders at the University and in the community.
This is the first year that the group has taken on service projects and they are excited with the success that they have had so far and are looking forward to carrying this on with future leadership groups. The Leadership Development Program would like to encourage others to give what they can or to volunteer time with charitable organizations this holiday season.
For more information on contributing to their efforts, contact Stacey Marshall at 282-3081 or marsstac@isu.edu.
###
---
Categories: