Idaho State University will induct five into Sports Hall of Fame
October 4, 2012
ISU Marketing and Communications
The Idaho State University Office of Alumni Relations and ISU Alumni Association will induct five new members into its Sports Hall of Fame on Saturday, Oct. 13.
The new members include Blair Braun (deceased), swimming 1965-69; Josh Hays, football 1994-96; Hillary Merkley, track and field, 1999-2001; Angela Munger, women's basketball, 1997-2002; and Dale Trumbo, Lifetime Achievement Award.
The induction ceremony at noon in the Rogers Black Box Theatre in the Stephens Performing Arts Center is open to the public. In addition, the new inductees will be introduced at halftime of that afternoon's ISU football game with Cal-Davis, kickoff time 4:05 p.m.
Biographies of the inductees follow: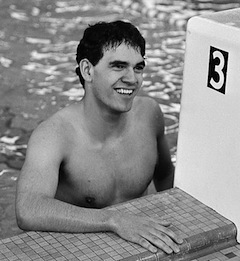 • Blair K. Braun (deceased), a 1964 graduate of Farrington High School in Hawaii, swam for eight years in Hawaiian AAU Swimming Age Group, Junior and Senior program and held numerous Hawaiian swimming records. Also an outstanding student, he was offered a swimming scholarship to Idaho State College by then Athletic Director, John Vesser. During his freshman year, Braun broke two individual and one relay school records at the Big Sky Conference championships. During his sophomore year, he set more school records and this was the pattern the entire time at ISU. Teammates of Blair's including Gary Cutright, considered Blair one of the most accomplished swimmers ever recruited to ISU. Braun obtained his bachelor's degree in secondary education/speech in 1969. Braun, who died in 1987 from leukemia, worked at the Whitney Museum of American Art in New York City.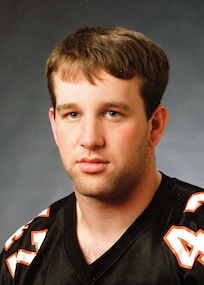 • Josh Hays, originally from Homedale, was considered by many to be too small for the position of defensive end. However, Hays is one of the few ISU defenders to be first-team All Big Sky Conference in two seasons, 1995 and 1996. At the time of his graduation, he held ISU quarterback sack records for game (five), season (16.5) and career (42.5). Two records still stand – Jared Allen broke the one-season record of sacks with 17.5. Josh was team captain in both 1995 and 1996 in addition to being named All Conference First-Team Academic All Conference and an All-American selection in 1996. Hays earned two degrees from ISU, a bachelor's degree in psychology in 1997 and a Master of Counseling in 1999. He is now a guidance counselor and coach at Powell High School in Powell, Wyo. Josh and his wife Tammy (Hunter) Hays, also an ISU alumna and an ISU volleyball player, have three children.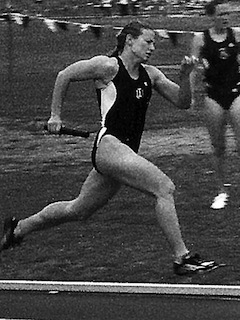 • Hillary Merkley was a "walk-on" to both ISU's track and basketball teams but quickly earned a track scholarship. Her finest performance came in the 2001 Big Sky Conference Outdoor Track Championship, where she won the heptathlon with a school-record and NCAA-qualifying 5320 points and was voted the meet's Outstanding Field Event Athlete. Hillary won the conference indoor shot put her freshman year with a mark of 48-01/4, still a school indoors record. She also had the league's best mark in the indoor heptathlon. She had ISU top-10 marks in other events including the indoor shot put, intermediate hurdles, outdoor 800 meters, indoor and outdoor 4×400 meter relay and the 55-meter hurdles. Hillary and Amber Welty are the only three-time winners of the ISU Outstanding Track and Field Athlete award. She earned a bachelor's degree from ISU in sports science/education in 2001. Merkley is now teaching in the Boise School District and coaching track athletes.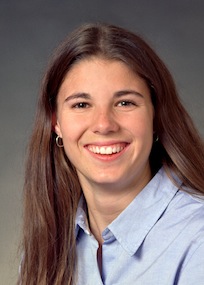 • Angela Munger was an outstanding leader, playmaking guard and defensive player for the ISU women's basketball team who was a four-year letter winner 1997-2000. She was All-Academic All-Big Sky Conference for the four years of her eligibility. Her senior year she had 161 assists, the second best one-season total in ISU history. Munger, a team captain her junior and senior years, is fifth all time for career assists at ISU with 330. Her 203 career steals are the second-best all time. When she played for ISU the Bengals were 37-27 in league play. She was a graduate assistant coach with the best women's basketball team in ISU history, the 25-5 and 16-0 in league 2001 squad that won the Big Sky Conference and went to the NCAA tournament. Munger earned a bachelor's degree in biology (2000) and her Master of Public Health Degree in athletic administration (2002) from ISU. She is employed as territory representative for LifeFitness and resides in Sunnyvale, Calif.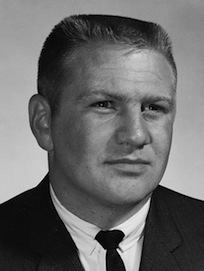 • Dale Trumbo was nominated for Lifetime Achievement Award by Jim Baxter, founder of Christian Boxers Outreach, who requested that Trumbo be recognized both for his collegiate boxing accomplishments and for his numerous contributions to the sport of boxing and Idaho youth since graduating from ISU. Trumbo was president of the ISU Alumni Board of Directors in 1978-79. He was an active member of the committee that established the Special Olympics in Pocatello. Trumbo also served as the Idaho State Athletic Commissioner and President of Golden Gloves of Idaho for 21 years. He was Director of Vocational Rehabilitation for the state of Idaho. He has helped numerous people at risk through the services available as well as his personal assistance. Trumbo and his wife Glenda live in Boise.
###
---
Categories: