Idaho State University to present the theatrical comedy "The 25th annual Putnam County Spelling Bee" Oct. 5, 6, 11, 12, 13
September 24, 2012
ISU Marketing and Communications
The musical comedy "The 25th Annual Putnam County Spelling Bee" will be presented by the Idaho State University School of Performing Arts at 7:30 p.m. Oct. 5, 6, 11, 12 and 13.
The show will be presented in the Beverly B. Bistline Theatre in the L.E. and Thelma E. Stephens Performing Arts Center.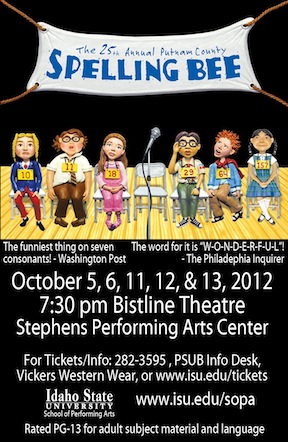 The musical comedy is billed "as a hilarious tale of overachievers' angst chronicling the experience of six adolescent outsiders vying for the spelling championship of a lifetime." The show's Tony Award-winning creative team has created the unlikeliest of hit musicals about the unlikeliest of heroes: a quirky yet charming cast of outsiders for whom a spelling bee is the one place where they can stand out and fit in at the same time, according to Michael Helman, business and production manager for the ISU School of Performing Arts.
The comedy is directed by Sherri Dienstfrey. The musical was conceived by Rebecca Feldman with music and lyrics by William Finn and is based on the book by Rachel Sheinkin. This production is rated PG-13 and contains adult subject material and language.
Tickets are available at the Stephens Center Box Office in person or by phone at 208-282-3595, Vickers Western stores in Pocatello and Idaho Falls, Pond Student Union Information Desk or online at www.isu.edu/tickets. For additional information, visit www.isu.edu/sopa.
###
---
Categories: