Idaho State University musical groups, Idaho State-Civic Symphony join to present 'Joy to the World: An ISU Christmas' on Dec. 7-8
November 19, 2012
ISU Marketing and Communications
The Idaho State-Civic Symphony, Idaho State University Choirs, the ISU Symphonic Band and the Camerata Singers will combine to present "Joy to the World: An ISU Christmas" at 7:30 p.m. on Dec. 7 and 8 at the Stephens Performing Art Center in the Jensen Grand Concert Hall.
With 150 singers and 80 instrumentalists, more than 230 musicians will take the stage.
The concert is under the direction of George Adams, Idaho State-Civic Symphony conductor, and Scott Anderson, ISU choral director. Anderson, Adams and ISU director of bands Patrick Brooks will prepare community and ISU student musicians for a multifaceted eclectic performance of Christmas music.
"We are always enthusiastic and excited to collaborate with the symphony," Anderson said. "Of all the choirs that I conduct, the highlight of their year is singing with the symphony. When you have that many people involved from the community, literally hundreds of musicians all up on the stage, there is a synergy that comes from it that is powerful."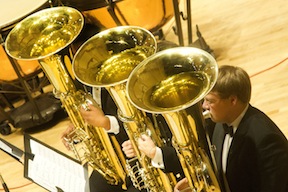 Members of the ISU Symphonic Band will present pre-concert music under the direction of Brooks, beginning at 6:30 p.m. each night in the Stephens Performing Art Center Rotunda. Delectable desserts and beverages will be available for purchase.
The Stephens Performing Art Center will present a beautiful setting with a magnificent display of holiday lights and traditional garland and decor.
"We expect that 'Joy to the World: An ISU Christmas' will quickly become a holiday tradition and serve as a touching reminder for the Christmas holiday," said Scott Turner, interim associate vice president for development, ISU Foundation.
Ticket prices are $32 for adults and $17 for students. Tickets are available at the Performing Arts Center Box Office in person or by phone at 208-282-3595, Vickers Western Wear stores in Pocatello and Idaho Falls, Pond Student Union Information Desk or you can order online at www.isu.edu/stephens.
More information on the Idaho State-Civic Symphony is available at http://www.thesymphony.us/.
###
---
Categories: