Idaho State University, Cooper Norman Certified Public Accountants celebrate ribbon-cutting ceremony for new learning center
September 21, 2012
ISU Marketing and Communications
The partnerships between Idaho State University and the Idaho business community continue to grow as businesses and educators realize the mutual benefits of close relationships.
This mutual benefit prompted Cooper Norman Certified Public Accountants to sponsor a new learning and resource center for ISU College of Business. Cooper Norman is funding a classroom refurbishment that will provide advanced technology and an ideal learning environment for students and professors.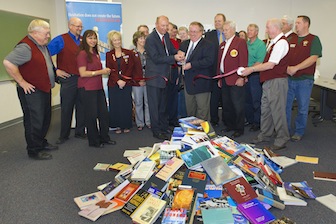 A groundbreaking and ribbon cutting ceremony for the new center was held Thursday, Sept. 20, in Room 402 of the ISU College of Business.
When asked about the sponsorship, Clint Tavenner, a partner at Cooper Norman, pointed out the benefits of its close ties to the College.
"We have been actively recruiting students from the College of Business for many years," Tayenner said. "We appreciate ISU's role in preparing our future employees, and it is in our best interest to make sure students and professors have excellent facilities."
The partnership between the College of Business and Cooper Norman goes beyond donations and sponsorships. The two organizations have an educational partnership as well.
Bob Picard, chair of the ISU accounting department said, "Cooper Norman is truly an education partner. They generously share their time as guest lecturers, keynote speakers, and symposium participants. We have the same goal – preparing students for successful careers."
Tavenner agreed, saying "Cooper Norman sees our role as much more than sponsors. We see our relationship as a valued partnership. This classroom is just one of the ways we give back to ISU for all they do to make our communities a better place to live, work and play."
For more information on ISU College of Business visit www.isu.edu/cob.
###
---
Categories: