I Love ISU scholarship campaign raises $364,163
September 19, 2012
admin
The 2012 annual "I Love ISU" campaign concluded Thursday, Sept. 13, 2012, raising $364,163 in pledges for scholarships for Southeast Idaho students.
Led this year by Deb Thompson and Gary Black, 20 team captains and more than 180 volunteers in Pocatello, Idaho Falls, Blackfoot and American Falls worked together to gather pledges through weeks of peer to peer contacts and other activities.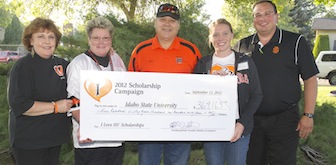 "Once again, our volunteers and the citizens of Southeast Idaho have stepped up with their support for Idaho State University and our students," said ISU Alumni Director KC Felt. "This campaign remains a signature event for the university and it continues to be a driving force for scholarships. My personal thanks to all who participated and those who support our efforts."
The announcement was made at the Pocatello Chamber of Commerce Business After Hours Thursday evening. This annual event was once again hosted by Watkins Distributing, and food was provided by Corey Wright and The Sand Trap. Thompson and Black presented the $364,163 check to President Arthur C. Vailas at the event.
"We are incredibly grateful to the community members who have given generously to Idaho State University during this campaign," Vailas said. "The gifts of both time and donations will allow us to help more students from Southeast Idaho reach their fullest potential"
The "I Love ISU" campaign has been conducted in Pocatello for 30 consecutive years.
---
Categories: