Former Idaho State University Provost, South Dakota School of Mines President Robert Wharton to be honored in tribute service Sept. 24
September 20, 2012
ISU Marketing and Communications
The South Dakota School of Mines and Technology has announced that its President Robert A. Wharton died unexpectedly on Sept. 19 and an outdoor memorial tribute service will be held at 2 p.m. on Monday, Sept. 24, on the School of Mines' quad.
Wharton, 60, served as the provost and vice president of academic affairs at Idaho State University from 2005 to 2008, and a year prior to that served as ISU's chief research officer. Wharton had served as School of Mines President since 2008.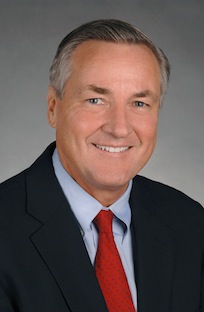 Christy Horn, vice president of SDSM&T university relations, said Wharton died from complications of treatment for neck cancer, according to a story in the Rapid City Journal. That story also noted that Wharton was diagnosed with neck cancer in late 2011 that required seven weeks of radiation and chemotherapy. In April, he announced he was cancer-free. According to Horn, Wharton was cancer-free at the time of his death but declined to go into further details concerning his health.
In lieu of flowers, donations may be directed to Dr. Robert A. Wharton Scholarship, SDSM&T Foundation, Boy Scouts of America Black Hills Area Council or Defenders of Wildlife. Funeral arrangements are being handled by Osheim & Schmidt Funeral Home.
"Our thoughts and prayers are with the family through this difficult time," said Idaho State University President Arthur C. Vailas. "He will be missed by all of us."
Wharton leaves a legacy of leadership and commitment to academic quality, research, economic development and community service.
Jack R. Warner, executive director and CEO of the South Dakota Board of Regents, said President Wharton will be remembered for his extraordinary leadership and advancement of the university.
Wharton's leadership and scientific career spans several decades in academia, federal service and the private sector. Wharton received his Ph.D. in botany from Virginia Polytechnic Institute and his B.A. in botany and M.A. in biology from Humboldt State University. Prior to joining the School of Mines, President Wharton served as provost and vice president for academic affairs at Idaho State University. Wharton was a tenured professor of biology at ISU and served as its chief research officer, leading the university's efforts to foster, support and expand its research enterprise.
Wharton had been nominated for membership on the National Science Board. He had also attended the Harvard Institute for Educational Management and the Stanford Graduate School of Business, Stanford Executive Program, and served as the executive officer for the National Science Foundation's Office of Polar Programs in the federal government's Senior Executive Service.
Having participated in 11 expeditions to the Antarctic, President Wharton was a recipient of the United States Antarctic Service Medal and served on the National Research Council's Polar Research Board. He has been a visiting senior scientist at NASA headquarters in Washington, D.C.; an executive vice president for the Institute of Management Studies in Reno, Nev.; and vice president for research and research professor at the Desert Research Institute. He was an advisor to the Secretary of Energy as an appointee to the National Coal Council and a member of the Council on Competitiveness. Wharton served as co-chair of the Association of Public and Land-Grant Universities (APLU) Energy Forum and also initiated and led a national effort focused on re-establishing a federal role in mining research and development. He was a fellow of the American Association for the Advancement of Science, the Royal Geographical Society, the Explorers Club and a member of Sigma Xi.
President Wharton was married to Dr. Carolyn R. Fassi Wharton, a native of St. Louis, Mo. Fassi Wharton has 20 years of experience working in health care administration at the federal, state, and local levels, in private industry and in academia as a faculty member. Robert Wharton is also survived by one son, Matt Wharton of Loveland, Colo.; two grandchildren; one brother and one sister.
###
---
Categories: