Country Greats Morgan and Tillis to Bring 'Grits and Glamour Tour' To ISU Stephens Center Oct. 18
September 25, 2012
ISU Marketing and Communications
Country-music stars Lorrie Morgan and Pam Tillis will present the acoustic performance "Grits and Glamour Tour" at 7:30 p.m. Oct. 18 in L.E. and Thelma E. Stephens Performing Arts Center.
Their performance in the Joseph C. and Cheryl H. Jensen Grand Concert Hall is part of Idaho State University's "A Season of Note" entertainment and cultural series.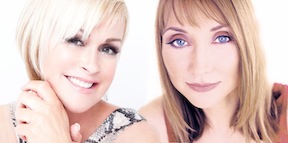 Morgan and Tillis, both Grand Ole Opry members, have had remarkable careers. Collectively, Morgan and Tillis have produced 28 Top 10 Hits, have sold more than 14 million records worldwide, and have had 12 No. 1 Hits.
Morgan has three gold and three platinum albums to her credit and Tillis has produced two gold and three platinum albums.
They will share the stage and stories before performing hits that include Morgan's "Something in Red," "What Part of No" and "Watch Me," and Tillis' "Maybe it was Memphis," "Don't Tell Me What to Do" and "Shake the Sugar Tree."
For more information on these singers visit their websites wwww.lorrie.com or www.pamtillis.com
Tickets for the concert are $40 lower lever and $36 upper level and can be purchased at the Stephens Performing Arts Center Box Office, open from 10 a.m. to 4:30 p.m.
Tickets can also be purchased over the phone at (208) 282-3595 or online at www.isu.edu/tickets. They can also be purchased at Vickers Western Stores in Pocatello or Idaho Falls. The Box Office is open one hour prior to show times.
More Stephens Center information is available at www.isu.edu/stephens/.
###
---
Categories: