Associated Students of Idaho State University to unveil new Bengal statue Oct. 24
October 18, 2012
ISU Marketing and Communications
The Associated Students of Idaho State University are proud to announce the unveiling of a brand new Bengal statue on Wednesday, Oct. 24, at noon in front of the Pond Student Union Hutchinson Quadrangle entrance.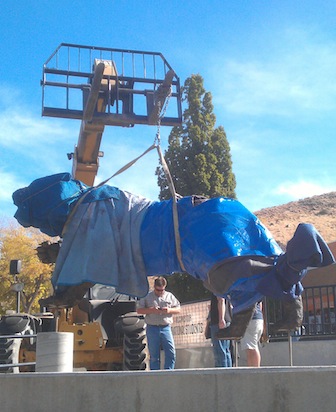 This unveiling ceremony will include entertainment by the Bengal Marching Band, Bengal Cheer Squad and Bengal Dancers. Event speakers will include ASISU President Matt Bloxham, ISU Vice President for Advancement Kent Tingey and local artist Malynda Cooper, creator of the statue.
"ASISU is excited to present this gift to the University," Bloxham said. "The Bengal statue will represent Idaho State spirit and be a part of our traditions for many years to come. This will be a very exciting day for Idaho State University"
The unveiling ceremony will be followed with refreshments.
All are welcome to attend and share Bengal Spirit.
For more information, please contact the ASISU office at (208) 282-3435.
###
---
Categories: