Two-time Grammy Award-winner Jakob Dylan to receive honorary Doctor of Letters from Idaho State University
March 14, 2011
ISU Marketing and Communications
Idaho State University will award an honorary Doctor of Letters to two-time Grammy Award-winning singer-songwriter Jakob Dylan at its spring 2011 commencement ceremonies on May 7.
This will mark the first honorary degree conferred through the newly formed ISU College of Arts and Letters.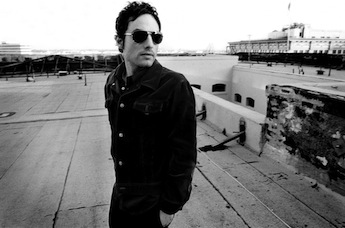 Dylan is the lead singer and songwriter for The Wallflowers. Formed in 1990, the Los Angeles-based band has sold more than 7 million records worldwide. In addition, Dylan has also released two critically acclaimed solo albums.
Nancy J. Legge, professor in the Department of Communication and Rhetorical Studies, initiated the nomination for Dylan to receive the honorary degree. Legge has assisted Dylan's team in managing his websites for more than a decade. In addition, she has used Dylan's work to illustrate concepts in several courses she teaches and has presented and published several papers about his ideas.
Dylan's work, Legge explains, "is important because it is both intellectual and artistic. His songs are often deeply philosophical, exploring important issues about the human condition.
"His work," continued Legge, "adds to the conversations that have been going on between thinkers for centuries. Furthermore, Dylan's use of language is masterful and clearly inspired by great poets. Using the vehicle of songs to express his ideas makes them accessible to everyone. All of these factors contribute to the recognition that Dylan himself is a wise and gifted poet and songwriter whose work teaches and inspires."
Dylan responded to the news, "I am truly honored to be awarded a Doctor of Letters. To have my songwriting recognized by higher education is a thrill to me. I look forward to celebrating this day with all the students and educators at Idaho State University."
Dylan's music is widely recognized as being about significant themes, often highlighting struggles of the human spirit, disillusionment, and the value of perseverance and hard work. In addition, he is recognized as a wordsmith whose songs ­– filled with vivid imagery and eloquent language ­– distinguish him from his contemporaries.
"Idaho State, and especially the College of Arts and Letters, is proud to have this connection to Mr. Dylan," said Kandi Turley-Ames, interim dean of the ISU College of Arts and Letters. "We look forward to developing our relationship with such a distinguished artist."
Music critic Anthony DeCurtis notes, "Dylan writes like a poet."
Commenting on his songwriting, USA Today offers, "Lyrically, Dylan is less of a traditionalist, drawing more inspiration from poet W.H. Auden than Buddy Holly."
Jakob Dylan gained national attention with The Wallflowers' sophomore release "Bringing Down the Horse" and its numerous radio-friendly singles, including "Sixth Avenue Heartache," "One Headlight," and "The Difference," each of which earned Grammy nominations.
The Wallflowers have released six albums to date: "The Wallflowers" (1992), "Bringing Down the Horse" (1996), "Breach" (2000), "Red Letter Days" (2002), "Rebel, Sweetheart" (2005), and 2009's "Collected," a compilation of some of the band's most popular songs. The band's music has also appeared in numerous films and television shows, including "Godzilla: The Movie," "Zoolander," "American Wedding," "I Am Sam," "The Guardian," "CSI" and "NCIS."
In addition to his success with The Wallflowers, Dylan also has an accomplished solo career. He released his first solo album, "Seeing Things," with Columbia Records in 2008. The album, produced by Grammy Award-winning Rick Rubin, was a largely acoustic album, featuring Dylan on vocals and guitar, accompanied by minimal instrumentation.
In 2010 Dylan released "Women + Country," his second solo album, produced by Grammy Award-winning and Oscar Award-winning producer T Bone Burnett. This album features rich instrumentation, including tribal drums, pedal steel, horns, and mandolin, along with the harmonies of Neko Case and Kelly Hogan. The album explores themes about fighting the principled fight and persevering in the face of adversity.
Randy Lewis, Los Angeles Times music critic, named "Women + Country" the Top Album of 2010. He explains, "Songwriting can be viewed as a sort of alchemy, a process through which a musician creates something rare and valuable — whether personally, artistically or commercially — out of the base materials of everyday life. Jakob Dylan's 'Women and Country' is a glittering example."
For more information on Jakob Dylan, visit the following websites:
• http://www.npr.org/2011/01/11/125475688/jakob-dylan-tiny-desk-concert
• http://www.npr.org/artists/16523435/jakob-dylan
• http://www.jakobdylan.com.
###
---
Categories: