Theatre/Dance ISU to present 'Transitons: Dance ISU in Concert' March 3-5
February 22, 2011
ISU Marketing and Communications
Theatre/Dance ISU will present "Transitions: Dance ISU in Concert," billed as a compelling evening of diverse dance works, at 7:30 p.m. March 3-5 in Frazier Hall's Diane and Chick Bilyeu Theatre.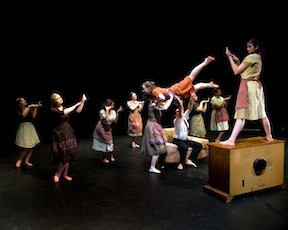 This concert will feature a blend of various types of dance ranging from ballet and modern, to hip hop and jazz. The concert will feature six distinctly different pieces and more than 40 dancers.
ISU students make up the bulk of the performers at this year's concert and they all have been working hard to prepare for the upcoming show. Auditions were held in August 2010 and each choreographer and performer has been in rehearsal perfecting their performance piece.
This year's concert will include works by Joséphine Garibald as well as ISU dance instructors Lauralee Zimmerly, Molly Jorgensen, Paul Zmolek, Sergiu Brindusa, owner/operator of Brindusa-Moore Ballet Academy and Dr. Lindsay Tucker.
Under the direction of Garibaldi, the dance department has developed and submitted a dance major program proposal to accommodate the growing number of dance minor students at ISU.
Tickets are available now at the Performing Arts Center Box Office, by phone at 282-3595 or online at www.isu.edu/tickets. Ticket prices area $15 for adults, $9 for children ages 6-18, and $7 for ISU students. All prices include a $2 facility service fee and sales tax. Discounts are given for groups of 10 or more.
For more information on the concert, contact Erin Joy, Theatre ISU Box Office Manager, 282-6452.
---
Categories: