'Season of Note' to present Red Chamber – Secrets of Chinese Court, Passions of the West – on April 9
March 14, 2011
ISU Marketing and Communications
The Idaho State University a "Season of Note" fine arts series will present Chamber- Secrets of Chinese Court, Passions of the West at 7:30 p.m. April 9, in the Joseph C. and Cheryl H. Jensen Grand Concert Hall in the L.E. and Thelma E. Stephens Performing Arts Center.
Red Chamber consists of Mei Han, leader, and acclaimed zheng (zither) master; Gullian Liu, a leading pipa (lute) master; Zhimin Yu, a ruan (lute) virtuoso; and Geling Jiang, a multi-instrumentalist who started her professional career at age ten.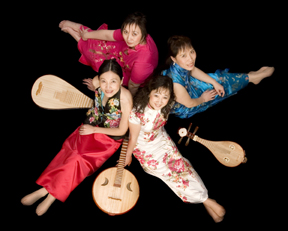 This quartet performs a variety of styles including stringband music, court classics and cutting-edge contemporary creations. Red Chamber gets their inspiration from the traditional Chinese "Plucked String," which is rarely heard in the west. With this style, Red Chamber creates its own unique sound to perform music that spans centuries.
Ticket prices are $20 for main level and $16 for upper level. For more ticket information visit www.isu.edu/stephens/.
For more information about Red Chamber visit their website at www.mei-han.com/redchamber.html.
###
---
Categories: