Local Girl Scouts donate cookies for Idaho State University student soldiers in Iraq
April 21, 2011
ISU Marketing and Communications
Local Girl Scout Troop 423 recently donated about 250 boxes of the organization's famous cookies to be included in care packages for Idaho State University student soldiers deployed to Iraq with the Idaho National Guard.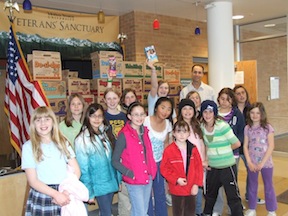 The care packages, which also included items such as Valentine cards from local school children, snacks, personal hygiene products and more, were shipped from Idaho State University on Thursday. The 25 student soldiers began receiving them Monday.
The care package program is organized by the ISU Armed Forces Veterans Club-Pocatello chapter and the Veterans' Sanctuary Program. This was the second of three rounds of care packages ISU will send to the student soldiers before their return, which is scheduled for September.
For background on the Girl Scout donation, Troop 423 raised the funds while selling cookies on weekends at Fred Meyer in Pocatello. When customers purchased cookies, the girls asked them if they would also like to purchase a box for the student soldiers. The troop's goal was 200 boxes.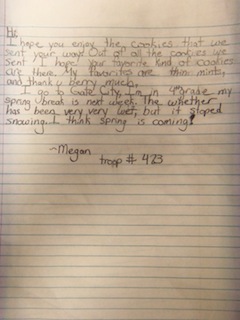 In addition to the cookies, the girls also wrote the soldiers letters and messages on many of the cookie boxes.
Thanks to the girls' effort, and to the generosity of the community, by the end of the third weekend, the troop had surpassed its goal.
"The success of the care package program is a direct result of hard work by many organizations and individuals on campus and in the community. The cookie donation from Girl Scout Troop 423 is a perfect example of that support," said Casey Santee, Veterans' Sanctuary recruiter/counselor. "We would like to express our gratitude."
For more information about the care package program, contact Santee at 282-4298. To speak to one of the Girl Scouts in Troop 423, call Marjanna Hulet at 705-7367.
###
---
Categories: