ISU Oboler Library exhibits art by Bob Beason
March 14, 2011
ISU Marketing and Communications
Bob Beason's art work is in the current display art area through April at the Idaho State University Eli M. Oboler Library, 850 S. 9th Ave.
The exhibit may be viewed during regular library hours, with schedule changes due to spring break. Please contact the library at 282-3248 for those changes.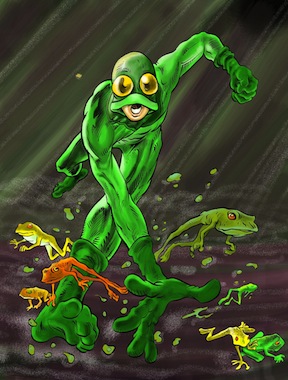 Beason's self-published comics run monthly in the The Bannock Alternative free paper. Art from the comics as well as many of his original drawings, paintings and prints are now on display at the Oboler Library along with part of his graphic novel, "Mascot," featuring a Bengal tiger character, Captain Bengal.
Living on campus in the 70s, Bob Beason's room was known to his Graveley Hall dormitory floor as "the library." Sharing his comics with his floor mates, they imagined the colorful heroes leaping and careening about the structures of ISU.
Beason hopes all will enjoy seeing his hero's and heroine's adventures on the rooftops of the ISU campus as much as he has enjoyed creating them. The library roof is mentioned in one of the ISU campus scenes.
His affection for those days is reflected in his newest comic work featuring a super-powered mascot named "Captain Bengal" and his nemesis "Bloodcat."
Beason has also been involved in art education for over three decades, first teaching in Wells, Nev., then returning to Pocatello to teach at Hawthorne Junior High and Pocatello High School, retiring in 2009.
He still teaches on a weekly basis at the Pocatello Art Center and at the Pocatello Art Supply Store where he does a cartooning clinic the Saturday following the First Friday Art walk at the Art Supply Store.
###
---
Categories: