ISU biological sciences Professor Jeff Meldrum interviewed for Discovery Channel Canada 'Daily Planet' program
April 25, 2011
ISU Marketing and Communications
Jeff Meldrum, Idaho State University associate professor of anatomy and anthropology in the ISU Department of Biological Sciences, was interviewed for a feature on the "Daily Planet," an award-winning nightly primetime science magazine show of the Discovery Channel Canada, reaching 3.9 million viewers.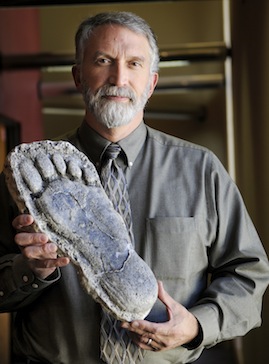 The feature takes a serious look at Meldrum's evaluation of the footprint and hair evidence for a species of North American ape, commonly known as sasquatch. Meldrum recently presented the findings of his trip to China to examine footprint casts of the yeren, the Chinese equivalent of sasquatch, at the annual meeting of the American Association of Physical Anthropologists.
The remarkable resemblance between footprints from opposite sides of the Pacific suggests a common source, which some have suggested may be relict populations of the Ice-Age ape, Gigantopithecus, Meldrum said.
Hair samples are being catalogued and evaluated with ISU undergraduate student Tanner Gragg, and by Henner Fahrenbach, microscopist, recently retired from the Oregon Regional Primate Research Center. Their conclusions will be presented at the Pacific Division meetings of the American Association for the Advancement of Science held in San Diego this summer, Meldrum added.
---
Categories: