Idaho State University's Garth Lambson receives fourth ISU Fulbright this spring; he'll be studying in Ireland
June 1, 2011
ISU Marketing and Communications
Idaho State University graduate student Garth Lambson has been awarded a Fulbright scholarship to study the Irish language and folklore at the National University of Ireland in Galway. He will attend a one-month study session at the NUI summer college in An Cheathrú Rua.
"This award gives me hope in accomplishing my dreams," said Lambson. "Education is an opportunity that does not have a limit. Anyone can find and achieve goals at any age."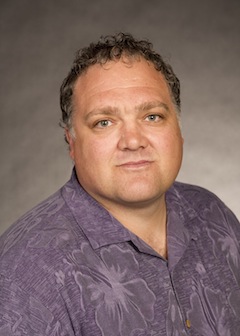 Lambson, a graduate student of English, is excited for his trip mid June through mid July, where he will be staying in An Cheathrú Rua with an Irish-speaking family. The Irish language is the principle native language spoken in the region, and is known for its sean-nós – an ornamented, old style of solo singing in the Gaelic language. The area is also rich in cultural history, particularly in folklore.
"Taking many classes from Dr. Brian Attebery and Dr. Jennifer Attebery has provoked my interest in folklore studies," Lambson said. "I want to teach in a university English program with an emphasis in folklore studies. To that end, studying the Irish language with the goal of hearing and reading folklore without the distortion of translation allows me to understand the true intent of the stories."
Lambson, who is from Mackay but now lives in Chubbuck, began his studies in Irish when he needed foreign language credits to graduate. Since ISU does not offer classes in this language, he turned to Thomas Ihde, a professor at The City University of New York—Lehman College and took classes in the Irish language via Skype. He was then encouraged by Ihde and professors at ISU to apply for a Fulbright Scholarship.
With the generous help of Sharon Sieber, the Fulbright program adviser, Lambson applied and was granted the Fulbright award with all expenses paid for travel and tuition to study at the NUI summer college in An Cheathrú Rua. He is excited to return to Ireland for a third time, not as a tourist, but as a student.
"The professors here at ISU are wonderful in their willingness to go out of their way to help students succeed," Lambson said. "Dr. Sharon Sieber has played a huge role in helping me receive this award. She helped me fit pages of information into a small two-page profile that has won me this award."
Lambson is the fourth person from ISU to receive a Fulbright this spring. Recent recipients include Cynthia Pemberton, associate dean of the ISU Graduate School and professor of educational leadership, who will teach for one academic year at the University of Malta, in Misida, Republic of Malta; and Chikashi Sato, ISU professor of environmental engineering, who will teach and do research at Tribhuvan University in Nepal. Mike Adams, a graduating ISU Master of Fine Arts student, received a Fulbright full research student grant in the arts to study sculpture in Oslo, Norway.
Students must apply through Sieber, at 282-2883 or siebshar@isu.edu. Faculty may apply directly to Fulbright, or may work with Sieber as they prefer. Sieber was instrumental in working with Pemberton, Mike Adams, and Garth Lambson. Another student, Misty Clover, has been named an alternate to Laos for a Fulbright English Teaching Assistantship (ETA). Sieber usually tells students to plan on spending about 90 hours to complete a full research grant, which involves writing a grant proposal and a personal statement, and obtaining a letter of invitation from a university in the country to which the student wishes to apply.
Sieber has also informally advised and recruited students applying for the Gilman and Boren awards, which are other programs sponsored by the International Institute of Education (IIE).
For further information about the Fulbright Program or the U.S. Department of State's Bureau of Educational and Cultural Affairs, visit the website http://fulbright.state.gov. The website for students will direct them to their local Campus Fulbright Program Adviser since enrolled students must apply through that office.
The Fulbright Program is the flagship international educational exchange program sponsored by the U.S Government and is designed to increase mutual understanding between the people of the United State and the people of other countries. The primary source of funding for the Fulbright Program is an annual appropriation made by the U.S. Congress to the U. S. Department of State, Bureau of Educational and Cultural Affairs. Participating governments and host institutions, corporations and foundations in foreign countries and in the United States also provide direct and indirect support. Recipients of Fulbright grants are selected on the basis of academic or professional achievement, as well as demonstrated leadership potential in their fields. The program operates in more than 155 countries worldwide.
Since its establishment in 1946 under legislation introduced by the late U.S. Senator J. William Fulbright of Arkansas, the Fulbright Program has given approximately 300,000 students, scholars, teachers, artists and scientists the opportunity to study, teach and conduct research, exchange ideas and contribute to finding solution to shared international concerns.
Fulbright alumni have achieved distinction in government, science, the arts, business, philanthropy, education and athletics. Forty-three Fulbright alumni from 11 countries have been awarded the Nobel Prize and 75 alumni have received Pulitzer Prizes. Prominent Fulbright alumni include: Muhammad Yunus, managing director and founder, Grameen Bank, and 2006 Nobel Peace Prize recipient; John Atta Mills, president of Ghana; Lee Evans, Olympic Gold Medalist; Ruth Simmons, president, Brown University; Riccardo Giacconi, physicist and 2002 Nobel Laureate; Amar Gopal Bose, chairman and founder, Bose Corporation; Renée Fleming, soprano; Jonathan Franzen, writer; and Daniel Libeskind, architect.
Fulbright recipients are among more than 40,000 individuals participating in U.S. Department of State exchange programs each year. For more than 60 years, the Bureau of Educational and Cultural Affairs has funded and supported programs that seek to promote mutual understanding and respect between the people of the United States and the people of other countries. The Fulbright U.S. Scholar Program is administered by the Council for International Exchange of Scholars, a division of the Institute of International Education.
###
---
Categories: