Idaho State University MBA team wins I2M case competition
June 1, 2011
ISU Marketing and Communications
What can you do with a Photonuclear Inspection and Threat Assessment System (PITAS)?
That is exactly what the Idaho National Lab (INL) wanted to find out. PITAS is one of ten technologies INL offered to students for the "Ideas to Market" (I2M) Tech Launch case competition.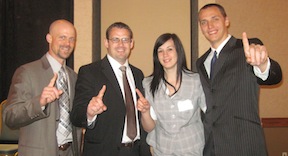 Numerous technology companies, including the INL, sponsor the annual Tech Launch case competition in Boise each May. In 2011, a four-person team of MBA students, including Oana Iacovita, Felix Caspari, Ryan Bills, and McKay Womack, chose PITAS for the competition.
"We worked for three months, researching every aspect of PITAS. Our goal for the competition was to provide exact recommendations about how PITAS can be brought to market," said team member Iacovita.
The team researched competitive technologies, market size, industry trends, alternate product applications, regulations, units sold scenarios, and how PITAS can best differentiate itself and compete. The team presented this research in a 10-minute presentation to a four-person jury.
"The hardest part," said Iacovita, "was condensing three months of research and a 40-page report into a 10-minute presentation."
The jury, which included two people from the INL technology transfer office, awarded the team first prize and $1,000. The MBA team was up against teams from Boise State University, University of Idaho, and Washington State University.
"It was a terrific experience," said Iacovita. "We learned by watching the other students' presentations. We learned what was most important in consulting work, and we got immediate feedback from the jury. They (the jury) said we had the most complete plan, so that was great to hear."
###
---
Categories: