El Korah Shriners donate van to Idaho State University-Meridian
February 25, 2011
ISU Marketing and Communications
Idaho State University-Meridian has a new set of wheels, thanks to the El Korah Shriners in Boise.
The organization donated a 1997 Ford diesel vehicle to ISU-Meridian in early February to transport student clinicians to off-site health screenings and on field trips, according to Robin Dodson, director of pharmacy student services in ISU-Meridian's College of Pharmacy. It'll be repainted with the ISU logo.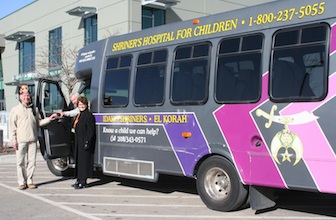 "We weren't utilizing the van to its fullest potential and wanted to strengthen our partnership with ISU," said El Korah spokesman Ray Westmoreland as he handed the van keys to Bessie Katsilometes, ISU-Meridian academic dean.
Last October, the Shiners held a free community screening on the Meridian campus to evaluate children who need treatment for orthopedic conditions, spinal cord injuries, burns and cleft palate. They plan to hold more on campus.
This year, ISU-Meridian partnered with Ada County to screen uninsured and low-income residents for numerous health-related issues. Dodson said the van can be used to transport student clinicians and faculty, who conduct the screenings, to clinic sites.
The El Korah Shrine is affiliated with Shriners Hospitals for Children, a 22-hospital system dedicated to improving the lives of children by providing pediatric specialty care, research and training for medical professionals. Children up to age 18 received treatment regardless of a family's ability to pay.
###
---
Categories: