American Nuclear Society recognizes Idaho State University/Idaho National Lab Professor Dunzik-Gougar
July 15, 2011
ISU Marketing and Communications
LA GRANGE PARK, Ill. – Mary Lou Dunzik-Gougar, Ph.D., assistant professor of nuclear engineering at the Institute of Nuclear Engineering at Idaho National Laboratory and Idaho State University, received a Presidential Citation from the American Nuclear Society (ANS) for her contributions to the Society during the incident in Fukushima, Japan, announced ANS President Eric P. Loewen, Ph.D. recently.
In discussing the presentation of the Citation, Loewen said, "Dr. Dunzik-Gougar worked tirelessly during the crisis in order to help the Society dispel myths about nuclear science and technology and we thank Mary Lou. On behalf of all of our members we are proud to be associated with Dr. Dunzik-Gougar."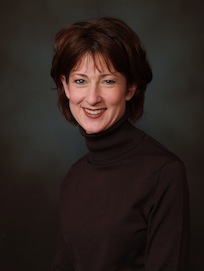 Of the Fukushima crisis, Dunzik-Gougar said, "It's very important for people who understand nuclear to speak up, to help the media and others interpret all the jargon. This was especially true for the tsunami aftermath in Japan. The real disaster was the extensive death and destruction caused by the earthquake and tsunami. The nuclear accident resulted in no death or injury."
The citation was presented to Dunzik-Gougar at ANS's Annual Meeting in June in Hollywood, Fla. The citation reads in part, "The American Nuclear Society expresses sincere appreciation in recognition of contributions to the response to events in Fukushima, Japan in order to ensure credible nuclear science and technology information was provided to the media, decision makers, and general public."
A member of ANS since 1992, Dunzik-Gougar earned a Bachelor of Science Degree in chemistry in 1987 and began professional life with seven years of teaching secondary school in the United States and United Kingdom. Subsequently, she studied environmental science (M.S.) and nuclear engineering (Ph.D.) at Penn State University (and Argonne National Laboratory – West), USA.
Between 1992 and 2004, she served as a graduate fellow and Technology Education Specialist at Pennsylvania State University. At Argonne National Laboratory –West, Idaho Falls, she was a graduate fellow and a Nuclear Engineering Specialist.
"On behalf of everyone in the Society, we offer our thanks to Dr. Dunzik-Gougar who has worked with such dedication to push forward the nuclear science and technology community," Loewen said.
For more information the American Nuclear Society, visit www.ans.org.
Story Written by: Fritz Schneider, American Nuclear Society
---
Categories: