2011 Idaho State University Outstanding Student Award recipients announced
April 18, 2011
ISU Marketing and Communications
Idaho State University and the ISU Alumni Association proudly announce the 2011 Outstanding Student Award recipients who will be honored at Spring Commencement on Saturday, May 7, in Holt Arena.
The 13 Outstanding Student Awards are presented to recognize outstanding graduating seniors who have excelled in their programs, their extracurricular activities and have generally epitomized ISU's outstanding student body. Students receiving these prestigious awards exhibit a readiness to graduate, high academic achievement, above-average dedication to academic and professional goals and involvement in professional societies. Work experience and community service are also considered.
The Outstanding Student Award recipients will be honored at a reception April 29 in the L.E. and Thelma E. Stephens Performing Arts Center.
The 2011 Outstanding Award winners are:
• Graduate School, Doctoral Candidate: Jason J. Blazevic:
Blazevic is a native of Phoenix, where he was born and raised. He is scheduled to receive a Doctor of Arts degree in political science at commencement. He attained a Master of Arts in history from Washington State University, a Master of Arts in political science from Idaho State University and a Bachelor of Science from Northern Arizona University, where he also lettered in football. While attending ISU, Blazevic served as a graduate assistant to the International Affairs Council. He attended over a dozen academic and professional conferences in the United States, Canada and China to present research, and he published numerous articles. His recent publications include the article "The Taiwan Dilemma: China, Japan and the Strait Dynamic" in the Journal of Current Chinese Affairs and the chapter "Oil, Sea Lanes and the Security Dilemma: The Regional and Global Implications of China's Oil Dynamic" in the book, "Chinese Engagements: Regional Issues with Global Implications" soon to be sold by Amazon and Barnes and Noble. He instructed courses in the ISU political science and history departments. He is the first in his extended family to graduate from college.
• Graduate School, Master's Candidate, Richard D. Westover:
Westover was born in 1983 to Val and Laree Westover of Clifton. He is scheduled to receive his Master of Science degree in chemistry. He served a mission for his church in the Roseville, Calif. Westover has been at ISU since 2008. He said he has always loved to learn, but hated math as a child. Westover said he is probably the only ISU masters-level chemist who had to start with a beginning math course at ISU. In fact, when Westover said he told his counselor at ISU that he wanted to be a chemist, he was told that given his math background, another major might be more suitable. Westover's love of chemistry made him press forward. He has been part of the chemistry department's Bachelor of Science/Master of Science program, a teacher's assistant, a research assistant, and has helped to publish two papers. Westover, 27, and his wife, Kami Anne, have two children, Donavan and Angela. Following graduation he plans to continue his education in a Ph.D. program at the University of Oregon.
• College of Arts and Letters, Fine Arts and Humanities, Sean Jorgensen:
Jorgensen, scheduled to receive a Bachelor of Arts degree in philosophy, was raised primarily in Troy, Mich., a suburb of Detroit, and attended Troy High School. During his senior year, his father and stepfamily moved from the metro-Detroit area to Boise. He joined them to finish his senior year at Borah High School. Following high school, he served a mission for the Church of Latter-day Saints at the Czech Prague Mission. During that time his family moved to Pocatello. Upon finishing his mission, Jorgensen returned to Troy, but while visiting in Pocatello he met his wife, Heidi Ann, who was then a junior at Idaho State University. He moved to Pocatello to marry her and enrolled at ISU. He spent several semesters searching for a major a briefly transferred to Brigham Young University, where he developed a desire to attend law school, and, "perhaps more importantly, discovered my attachment to ISU," Jorgensen said. Returning to ISU, he immersed himself in the philosophy program. A year later he and his wife welcomed their first child, daughter Gwen Marie. The couple is expecting its second child. Jorgensen plans on moving to Pennsylvania in August to attend Penn State Law School.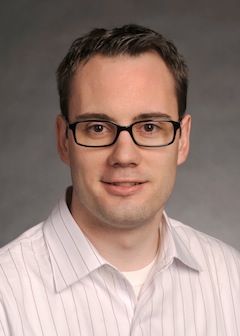 • College of Arts and Letters, Social and Behavioral Sciences, Chris Chatwin:
Chatwin is scheduled to receive a Bachelor of Science degree in applied economics and a Bachelor of Business Administration degree in accounting. He was born in Utah, but moved to Canada at age 5 and attended school in Magrath, Alberta. He now lives permanently in the United States after marrying his wife, Ashley Thompson. The couple had its first child, Makayla, born in March 2010. Chatwin, 28, is an avid hockey fan and plays goalie on several different recreational teams. His dream job would be to play professional hockey, but he said he lacks the necessary skill. Chatwin said he would settle for any position in the front office of an NHL team. Upon graduation, he will begin employment in the Boise office of Deloitte and Touché. While at ISU he was active in Beta Gamma Sigma, Beta Alpha Psi, the Economics Club and the College of Business Fellows. He said his favorite things about ISU are its small classes and great faculty.
• College of Business, Larissa F. Kimball:
Larissa F. Kimball, 21, from Emmett, is scheduled to earn her Bachelor of Arts in business administration–finance. Kimball started her academic career at Carroll College in Helena, Mont., and transferred to ISU her sophomore year. She said that transferring to ISU was possibly the single best decision she has made and is amazed at how many doors it has opened for her future. At ISU she has been the Finance Association President and was an ISU Ambassador. Of the latter endeavor, Kimball says, "I have thoroughly enjoyed serving this university as a student ambassador. I love sharing my student experiences." She earned a 3.99 GPA, is a College of Business Fellow, and is in the top 1 percent of her class. She is married to Chris Kimball.
• College of Pharmacy, Julianne Ramirez:
Julianne Ramirez, 35, was born in Somerville, N.J., and moved to Tucson, Ariz., as a teenager. She went to college to become a teacher, but put her career goals on hold after the birth of her son. She then began working as a pharmacy technician but found that merely drawing up and dispensing medications did not satisfy her desire to understand the science behind the powders and the pills. After nine years as a technician, she said she decided it was time to continue her education and fulfill her dream to become a pharmacist and to mentor others. She enrolled in college while holding a full-time job and raising her son. Two and a half years later, she was accepted into the ISU College of Pharmacy. She has completed an advanced practice experience rotation in Bethel, Alaska, that included travel to the remote Alaskan village of Emmonak. In Emmonak, she spent two 14-hours days working at a diabetes clinic. She was also able to shadow a Life Flight crew on a trip to Hooper Bay in a "bush" plane.
• College of Education, Erica Wendt-Richardson:
Wendt-Richardson, 21, from Idaho Falls, is scheduled to earn a Bachelor of Arts degree in secondary education, with a major in history and a minor in political science. She is the daughter of Kraig and Annette Wendt and grew up in the Osgood area, attending Skyline High School, where she very active in academics, school clubs, cross-country and track and field. Richardson carried her athletic and academic skills to ISU and in November 2010 she became ISU's first women's Big Sky Conference champion in cross-country. She also holds the record for the indoor mile at ISU. She has received All-Academic standing at several regional competitions and has received numerous academic awards. She has been on the Dean's List in the College of Education and she was honored as one of ISU's Brightest and Best earlier this year. She was also recently inducted into Kappa Delta Pi. She met her husband, Tim, her sophomore year at ISU. Tim proposed to Erica at the finish line of one of her indoor races in which she finished in first-place. She says Tim was her prize.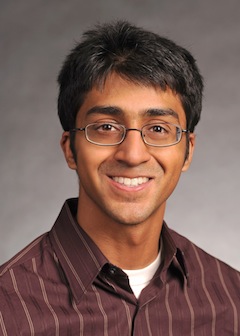 • College of Science and Engineering, Natural and Physical Sciences, Roy Malamakal:
Malamakal is scheduled to graduate with a degree in chemistry and biochemistry, with honors distinction. A native of Boise, the 22-year-old currently works in a research lab under the guidance of Todd Davis, assistant professor of chemistry. When he is not working, Malamakal enjoys spending time with his friends playing various sports, and when alone enjoys playing the piano and teaching himself how to play the guitar. He plans to earn a master's degree in chemistry next year and then hopes to attend either a medical school or to pursue a Ph.D. During his time at ISU he has been president of the ISU Chemistry Club, in the University Honors Program, and active as a Holy Spirit Catholic Community Youth Ministry Leader. He began doing scientific research at ISU the second semester of his freshman year. He is a Boise Rotary Scholar, an Advanced Placement State Scholar and earned bronze awards in the Idaho Math Competition and the Boise State University Science Day Competition.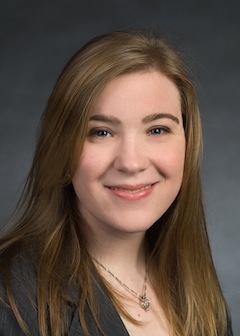 • College of Science and Engineering, Engineering, Amanda E. Finkes:
Finkes, 22, graduated with a Bachelor of Science degree in nuclear engineering in December after 3-1/2-years at ISU. She is from St. Louis. While at ISU she was the president of Tau Beta Pi, president of the Society of Women Engineers, and, for three years, was the secretary of the American Nuclear Society. She is now working on her master's degree in nuclear engineering at ISU. She is the recipient of several scholarships, including the Areva 2+2 Scholarship/Fellowship, Nuclear Regulatory Commission Scholarship/Fellowship and Tau Beta Pi Scholarship. She said she decided to be a nuclear engineer the summer before her junior year in high school. Finkes became a reactor operator in 2010 for the ISU AGN reactor in the basement of the ISU Lillibridge Engineering Building to prove to herself she could do it and that nuclear engineering was really something she could succeed at. She said her favorite things about ISU are the closeness of her department and the mentoring she received from ISU faculty.
• College of Technology, Co-Recipient, Desaray J. Odekirk:
Odekirk, 30, and native of Salt Lake City, is scheduled to receive a Master of Training and Development Degree. Odekirk works as a psychosocial rehabilitation specialist (PSR) in Idaho Region VI, her sixth year serving Idaho in the human service industry. As a PSR, she works with adults that have a pervasive mental illness and children with severe emotional disturbances, providing skills training to overcome the struggles these individuals face daily. During her graduate work at ISU, Odekirk had the opportunity to serve as the co-director of the 2009 Cross Examination Debate Association National Tournament at ISU, the largest collegiate championship debate tournament in the United States. Her thesis, "A needs assessment based on mental health providers' perceptions regarding workforce readiness for certification compliance of psychosocial rehabilitation specialists in Region VI in the State of Idaho" has provided a starting point for further research in the mental health field and has become one of the foundational studies for the development of a comprehensive training program to increase workforce preparedness in the mental health field for the State of Idaho. In fall 2010 she earned the accreditation of Certified Psychiatric Rehabilitation Practitioner. She is married to Scott Odekirk.
• College of Technology, Co-Recipient, Barbara Trolson:
Trolson, 48, of Idaho Falls, is scheduled to receive a Master of Training and Development degree. She earned a Bachelor of Science degree in family and human development with a minor in marketing at Utah State University in 2002. She has worked in Idaho's mental health services since returning to Idaho in 2007. Trolson is currently the chapter president of the Eastern Idaho Chapter of the American Society for Training and Development, and is a member of the National Association of Professional Women and Idaho Lifelong Learning Association. She also worked with survivors of domestic violence and sexual assault in Utah from 2002-2005, during which time she also co-facilitated the research project "Finding Voice: The Music of Utah Battered Women," with Elizabeth York, associate professor at Converse College in South Carolina, and Maureen Herns, director of Utah State University's music therapy program. Next to spending time with her children and grandchildren, Barbara's favorite thing to do is to go fishing with her husband, Rob, whom she says is her best catch ever. Barbara and Rob have seven adult children and 12 grandchildren.
• Division of Health Sciences – Kate Erickson:
Kate Erickson, 22 of Meridian, is graduating with a Bachelor of Science degree in dietetics in addition to completing the entrance requirements for medical school. As a student at ISU, Erickson has contributed to more than six research projects, two peer-reviewed journal publication submissions, and six grants, one of which was a National Institutes of Health grant recommended for funding. Additionally, Erickson began her own international research project in collaboration with the Idaho Condor Humanitarian Services Organization. The project's aim is to assess the health and nutrition status of a small community in southern Andean Peru and to identify sustainable community-based solutions to meet its nutrition needs. After graduation, Erickson will complete a dietetic internship, in order to become a registered dietitian, and apply for osteopathic medical school in hopes of practicing in primary care.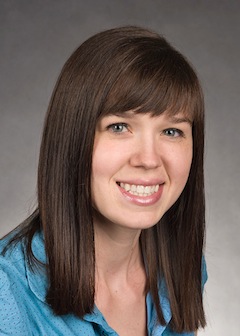 • School of Nursing, Shannon M. Earl:
Shannon Earl, 26, is graduating with a Bachelor of Science degree in nursing from Idaho State University. She has lived in Pocatello all her life and has accepted a position at Caribou Memorial Hospital in Soda Springs after graduation. She plans to pursue her doctoral nurse practitioner degree in family medicine with a specialty in women's health. The birth of her two children was the driving force and impetus that made Earl decide that she wanted to pursue a career in the nursing field. She has been on the Dean's list throughout her entire nursing program. She has had the opportunity to observe a triple bypass heart surgery and put her nursing skills into action by recognizing signs and symptoms of a heart attack in one of her clinical preceptors. She has completed the Advanced Cardiac Life Support Certification that is not normally taken until after a nurse has been in the field for some time. Her parents are Jim and Susan Grischkowsky, and Shannon and her husband, Travis, have two children.
###
---
Categories: