Roger Williams, one of Idaho State University's most famous alums, fondly recalled by ISU community
October 14, 2011
ISU Marketing and Communications
Roger Williams, one of Idaho State University's most famous alums and the greatest-selling pianist of all time, was fondly recalled by the ISU community.
Williams died Oct. 8 in his home at in Los Angeles, following complications from pancreatic cancer. He was 87.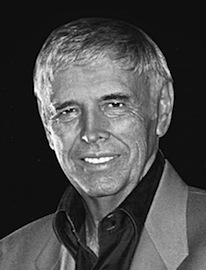 "While most people knew Roger for his immense talent, beautiful music, and energetic on-stage showmanship, Art and I are very thankful that we knew him as both a friend of Idaho State University and as a personal friend," said Laura Vailas, Idaho State University's first lady and wife of ISU President Arthur C. Vailas. "We will remember Roger for his warmth, as well as his love of people, music, and life. We will miss him greatly."
Williams was scheduled to perform a concert on Oct. 1 at Idaho State University as part of the "Season of Note" series, but had to cancel due to his illness. He was honored at this year's ISU Homecoming with a President Medallion award.
He maintained contact with ISU even during his last days.
"I had the pleasure of visiting with Roger two weeks before his passing," said K.C. Felt, director, ISU Alumni Relations. "He maintained that fighter mentality to the end."
"We honored him at Homecoming with one of our President Medallion awards," Felt continued. "He was thoroughly honored yet disappointed he couldn't join us for the celebration or his planned concert. He asked me to tell everyone how special this honor was to him and that he 'absolutely loves ISU.' He was a true friend of ISU and will be missed greatly."
Williams attended ISU as Louis Weertz, and graduated from ISU with a Bachelor of Arts degree in general music. He also completed the V-12 College Navy Training program, a one-year officer training school. He later earned degrees from Drake University and the Juilliard School of Music.
Williams had an astounding 18 gold and platinum albums to his credit. He has released more than 100 albums and played for nine U.S. presidents. Williams is the composer of "Autumn Leaves" – the greatest selling piano recording of all time. He has 18 gold and platinum albums to his credit.
He was honored as an ISU Distinguished Alumnus in 1976. Williams, born Jan. 1, 1925, in Omaha, Neb., began playing the piano at age 3. He has performed major venues worldwide, including Carnegie Hall, the Hollywood Bowl and the White House. The latter has earned him the title of "pianist to the Presidents."
Williams burst onto the popular music scene in 1955 when he recorded the only piano instrumental to ever reach "number one" on the Billboard singles charts, "Autumn Leaves." His version became an American classic and still stands as the greatest-selling piano recording of all time. Williams followed with more million-selling records. "Born Free," "The Impossible Dream," "Til," "Almost Paradise," "Maria," "Lara's Theme from Dr. Zhivago" and the theme from "Somewhere in Time" are only some of the many hits he has made during his long career.
For more information on Williams visit www.mrpianotoday.com.
---
Categories: