Idaho State University's 'A Season of Note' to present Ryan Shupe and the RubberBand on Sept. 24
August 29, 2011
ISU Marketing and Communications
Idaho State University's "A Season of Note" fine arts series will present Ryan Shupe and the RubberBand, a five-man band featuring Shupe on violin, at 7:30 p.m. Saturday, Sept. 24, in the Joseph C. and Cheryl H. Jensen Grand Concert Hall in the L.E. and Thelma E. Stephens Performing Arts Center.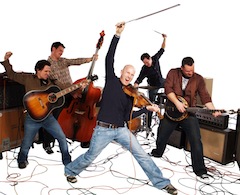 The band, hailing from Salt Lake City, is a breath of fresh air in an era where much of the music is over-produced. Shupe and his band take on an organic approach to performing that has built them quite a following through the country. Shupe, who has played violin his entire life, originally formed the band as an outlet for his songwriting, but it soon became bigger than anything he could have originally imagined.
"It's a musician's music, but it's also for people who want a good tune. That's kind of the beauty of our band, I think," says Shupe on the band's newest album. "If you're a musician, you like it because it has complex arrangements and things that are different than what's out there. We're pushing the boundaries a little bit, and doing a rock country hybrid with banjo and fiddle and stuff, but you're still getting the songs that you'd like to hear played on the radio. I think we are a great band live, yet also have solid songs people can relate to and enjoy."
Tickets are $24 for the main level and $20 for the upper level and can be purchased at the Stephens Performing Arts Center Box Office, open from 10 a.m. to 4:30 p.m. weekdays during the school year. Tickets can also be purchased over the phone at (208) 282-3595 or online at www.isu.edu/tickets.More information on Ryan Shupe and the RubberBand is available at http://www.shupe.net.
###
---
Categories: