Idaho State University School of Performing Arts to present play 'Dr. Faustus' in October
September 19, 2011
ISU Marketing and Communications
The Idaho State University School of Performing Arts Theatre/Dance Department will open its 2011-2012 production season with the chilling, and often controversial, dramatic tale of "Dr. Faustus" at 7:30 p.m. Oct. 7, 8, 13, 14 and 15 in the Bilyeu Theatre in Frazier Hall.
Written by Christopher Marlowe, "Dr. Faustus" stands securely as one of the great classics of the ages. Faustus sells his eternal soul to the devil in order to acquire the skills of black magic and to know more than any human being. After 24 years his bargain is up and Faustus is damned to hell for all eternity.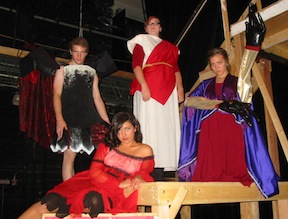 With good angels and bad angels, the devil, and a host of other diverse characters, "Dr. Faustus," although dark in nature, is surprisingly funny and suspenseful. The play features a huge cast of more than 20 characters. Some characters have more than three costumes each, featuring the original costume design by ISU Associate Professor Tara Young.
With "Hell" emerging from the pit space commonly used for the orchestra, scene designer Brett Harwood and technical director Chad Gross have attempted to transform the Bilyeu Theatre into a remarkable scenic masterpiece. Sound, lighting, and special effects round out this thrilling opening production.
Ticket prices are $15 for adults, $9 for children ages 6-18 and $7 for ISU students with Bengal cards. Tickets may be purchased at the Stephens Performing Arts Center Box Office 10 a.m. to 4:30 p.m. weekdays, by phone at 208-282-3595 or online at www.isu.edu/tickets. Tickets may also be purchased at Vickers Western Stores in Pocatello and Idaho Falls.
###
---
Categories: