Idaho State University Mind's Eye Gallery celebrates King James Version of the Bible's 400th anniversary
December 1, 2011
ISU Marketing and Communications
Four hundred years ago a group of biblical scholars, largely unknown today, created the most enduring and influential religious and literary work ever written in English: The King James Version of the Bible. To mark the anniversary, Idaho State University associate professor of mass communication Thomas Terry is the curator of a show at the Mind's Eye Gallery in the Rendezvous Complex on the ISU campus.
The show runs from Dec. 3 to Dec. 16 from 8 a.m.-7 p.m. and is titled, "Verbum Dei Manet Aeternum: The King James Bible 400th Anniversary 1611-2011." The Latin phrase means, "The Word of God Endureth Forever."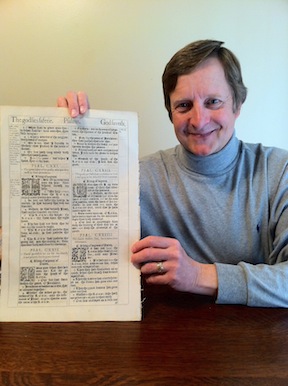 The centerpiece of the show will be a genuine page from the first printing of the King James Bible. The leaf includes Psalms 121-123 and measures approximately 10" x 16." Terry said that the owner of the page leaf stressed it was from an incomplete or damaged copy of the Bible. "No Bible was defaced to obtain the leaf," Terry emphasized. "It's the product of Bible restoration."
There will also be various facsimiles from the original printing, along with numerous different editions of the King James Version printed in the 20th Century. These include a zipper version, a large edition illustrated with paintings and drawings by Rembrandt and a reduced reproduction of the original 1611 Bible.
Terry also hosts "Teeing Off," an hour-long bimonthly public affairs radio show on KISU-FM 91.1 FM, the NPR affiliate for Southeast Idaho. To augment the King James show at the Mind's Eye Gallery, Terry will talk with Leland Ryken, professor of English at Wheaton College, Wheaton, Ill., about the King James Version of the Bible. The show will air Dec. 19 at 7 p.m.
Ryken was the literary stylist for the English Standard Version of the Bible, published by Crossway Bibles in 2001 and literary content contributor to the ESV Study Bible seven years later. He is the author of "How to Read the Bible as Literature" and "Words of Delight: A Literary Introduction to the Bible."
###
---
Categories: