Idaho State University-Meridian students, faculty and staff gather toiletries and gifts for local charities and Ugandan orphanage
December 9, 2011
ISU Marketing and Communications
Melody Glasscock stood in a corner of Room 506 at ISU-Meridian, counting tubes of toothpaste and travel-size containers of lotion, shampoo and dental floss. She wasn't complaining.
"I'm surprised, overwhelmed and humbled by the support," said Glasscock, a speech-language pathology student. "Counting the items is really a blessing."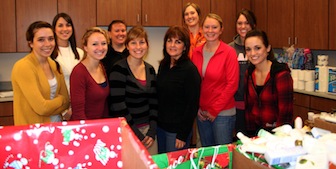 In another corner of the room, Gabriel Bargen and Susan Schaffer separated boxes of soap, deodorant, combs, razors and other hygiene products into smaller piles.
"For me, it helps me give back to my community. I feel blessed for what I have," said Schaffer, an administrative assistant II in the College of Pharmacy and chair of the ISU-Meridian Holiday Committee. Barden, an audiology professor, is also on the committee.
The two spearheaded the toiletry drive with help from the ISU-Meridian chapter of NSSLA, the National Student Speech Language Hearing Association. Glasscock counted a total of 4,161 items which will be donated to local charities and delivered to the Nsumba Orphanage in Uganda.
"The children will be thrilled with such 'luxurious' items as their own personal shampoos, soaps and lotions," said Judy Thorne, ISU-Meridian's HIV and viral hepatitis educator. Thorne, a member of a Boise medical team treating children at the orphanage, will deliver the items in February.
In addition to the toiletry drive, the Holiday Committee organized a silent auction and raffle that netted $1,162 to buy gifts, food baskets, holiday meals and food cards for three needy families in the Treasure Valley. Local merchants, museums and concert houses donated the auction items.
###
---
Categories: