Idaho State University faculty art exhibition on display through Jan. 20
November 29, 2011
ISU Marketing and Communications
The Idaho State University annual Art and Pre-Architecture Faculty Exhibition will run in the John B. Davis Gallery in the ISU Fine Arts Building through Jan. 20.
The exhibition will be on display from Nov. 29 to Dec. 20, and then reopened Jan. 9-20. The gallery will be closed during ISU's student winter break.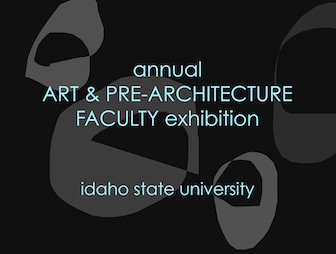 Faculty members exhibiting work include Scott Evans, Rudy Kovacs, Linda Leeuwrik, Anthony Martin, Amy Jo Popa, Doug Warnock and Angie Zielinski.
Adjunct faculty members exhibiting work include Ryan Babcock, Lou Christofferson, Cheryl Hanson, Lynne Parker, Lou Pirro and Omar Sarabia.
The John B. Davis Gallery hours are Monday – Friday from 10 a.m. to 4 p.m.
For more information regarding the gallery call Amy Jo Popa, John B. Davis Gallery director at 282 – 3341.
###
---
Categories: