Idaho State University Assistant Dean Rankin honored with vegetarian nutrition award
September 28, 2011
ISU Marketing and Communications
Idaho State University Division of Health Sciences Assistant Dean Linda Rankin received the Vegetarian Nutrition Dietetic Practice Group's (VN DPG) Award of Excellence in Service and Leadership on Sept. 26.
It is the highest award given by the 1,300-member vegetarian practice group of the American Dietetic Association (ADA).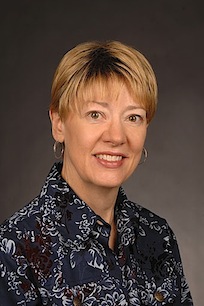 The award was given as part of the American Dietetic Association Food and Nutrition Conference and Expo, held in San Diego. from Sept. 24 through Sept. 27.
The Award of Excellence in Service and Leadership is given to an individual who demonstrates both service and leadership within the VN DPG as well as a continuing contribution towards the promotion of vegetarian nutrition. According to its website, "The mission of the Vegetarian Nutrition Dietetics Practice Group of the American Dietetic Association is to serve as the leading authority on evidence-based vegetarian nutrition for health professionals and the public."
Rankin has held a variety of offices in the VN DPG over the past 15 years including state coordinator, student membership coordinator, treasurer and chair.
In addition to her responsibilities as Assistant Dean, Rankin is a professor of health and nutrition. She has been a faculty member at ISU since 1991. One of the courses she regularly teaches is titled "Plant-Based Eating."
For more information, contact Rankin at 282-3054 or the VN DPG at http://www.vndpg.org/contact.php.
###
---
Categories: