City of Pocatello decorating city streets with 48-inch Bengal paws; ISU supporters invited to sponsor them
August 15, 2011
ISU Marketing and Communications
Community members, Idaho State University faculty and staff, and ISU boosters have been invited by Pocatello Mayor Brian Blad to support ISU by sponsoring the 48-inch orange and black Bengal paws that are being installed on Pocatello streets.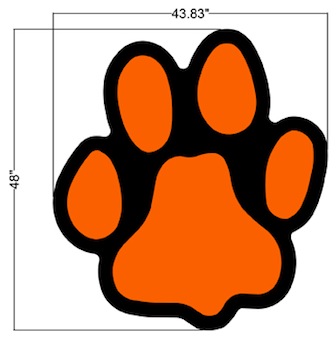 "On behalf of the City of Pocatello, Idaho State University (ISU) and the CommUniversity Committee, I invite you to sponsor a Bengal paw as part of our efforts to support the University," Blad said.
The City of Pocatello will mark the ISU campus entrances with Bengal paw prints. This year the paw prints will be installed on the roadway from the East Clark Street freeway exit to the intersection in front of Reed Gymnasium at the corner of Memorial Drive and Martin Luther King Jr. Way.
Officials are planning for this year's Paws to be installed by Aug. 22, the day of the "Welcome Back Orange and Black" CommUniversity event. Scheduled from 3 to 7 p.m. in Old Town Pocatello, this event features free prizes to ISU students including a Bengal car and a $2,500 diamond. There will be about 60 booths manned by businesses and restaurants, which will provide free food samples, coupons and drawings to promote their goods and services.
Next year the City of Pocatello plans to leave Bengal paw prints from the South 5th Avenue freeway exit to the intersection of Cesar Chavez Drive and Martin Luther King Jr. Way in front of the ISU Administration Building.
"We believe the paw prints will visibly express our community's pride in ISU to all those who live here and pass through," Blad said. "We are proud to be the home of Idaho State University, and now, everyone will know!"
Paw print sponsorships are $150 per paw and all donors will be recognized with signs displayed at City Hall and Reed Gym. Donors who contribute before Aug. 21 will also be acknowledged at the "Welcome Back Orange & Black" ISU student event.
For more information, contact Mayor Blad's office at (208) 234-6163.
###
---
Categories: