Wide web of partners, including Idaho State University, collaborating on National Science Foundation fish genetics research grant
July 15, 2010
ISU Marketing and Communications
Idaho State University is collaborating with multiple partners near and far, big and little, to develop a method to create a non-lethal genetics test on rainbow trout that has potentially broad scientific and commercial applications.
Idaho State University biological sciences Professor Ken Rodnick is a one of three co-principal investigators working on a $600,000 National Science Foundation Partnerships for Innovation Grant. He's working with Ronald Hardy, director of the University of Idaho's Aquaculture Research Institute in Hagerman Valley, and John McIver, University of Idaho vice president for research, in Moscow.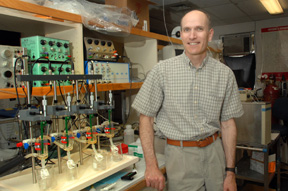 These researchers are working with the United States Fish and Wildlife Service (USFWS), the United States Department of Agriculture (USDA), SeaPak Trout in Idaho, Cooke Salmon Farms in Maine, the Portneuf Medical Center in Pocatello and the University of Chile in Santiago, Chile.
"The whole idea of the grant is to bring together a number of diverse entities to come up with new solutions," Rodnick said. "More and more the National Science Foundation is looking for broad collaborations with complementary expertise. This project demonstrates a new prototype for getting science done."
The type of genetic test of the red blood cells in trout that the researchers are attempting to develop will be non-invasive, so fish won't have to be killed when the test is administered. Only a small amount of blood will have to be drawn from the fish so rare or endangered fish will not have to be killed. The test would also be especially valuable to researchers doing long-term studies on fish because testing the same fish over a period of time provides experimental advantages.
"We're trying to develop the technology and methods to do these measurements, and then eventually apply them on a grander scale," Rodnick said. "Eventually we hope to develop testing procedures for aquaculture and fishery managers to provide means to analyze fish health and performance, and determine what influences them."
The development and validation of trout "gene panels" by this group of researchers would help scientists develop additional means of evaluating ecosystems and commercial challenges. It could help researchers measure the effects of diverse factors such as pollution and fish transport, handling, disease, dietary changes and vaccinations. The new test could also be used to better analyze the effects water temperature increases on fish due to global warming and other factors. Eventually scientists will try this new method out on several fish species including farmed species of salmon and an endangered species, the pallid sturgeon.
There are many novel and unique aspects to the grant study, which has the title "Environmental and Physiological Assessments Using Fish Erthrocyte Gene Expression to Measure Responses." For one, the study features such a large number of partners. On the international level, the University of Chile will try to replicate the study's results. On the national level, there is a broad range of partners participating, including the two large government agencies mentioned above, the USDA and USFWS, each with a vested interest. On the state level, the research is taking place in three locations in Idaho: Moscow, Hagerman Valley and Pocatello. There are both private and public partners. Finally, on the local level, Idaho State University has contracted with Portneuf Medical Center to have some of the blood tests done in PMC's clinical laboratory.
"We're partnering with Portneuf Medical Center because their clinical laboratory is a tremendous resource of equipment and expertise," Rodnick said.
PMC is being paid for its services via grant funds, and return the researchers receive blood analysis they couldn't receive elsewhere, an arrangement that benefits both parties.
Rodnick said he is excited by the challenges the research grant poses.
"This is something that really hasn't been done before," Rodnick said. "The NSF is taking a risk with us because this isn't a well-traveled road. But, more and more, this is how science is being done and how new discoveries and applications are being made."
Idaho State University received about $122,000 of the grant's total; the rest was distributed among other partners.
###
---
Categories: