K.C. Felt appointed director of Idaho State University Office of Alumni Relations
July 12, 2010
ISU Marketing and Communications
K.C. Felt, a lifelong Pocatellan, ISU alumna and former Idaho State University Foundation director of annual giving, has been appointed director of the Idaho State University Office of Alumni Relations.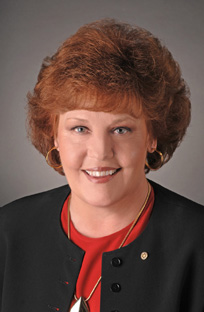 "K.C. has an incredible love for and commitment to Idaho State University and its alumni and friends," said Kent Tingey, ISU vice president for advancement. "She will be an outstanding director. She has talents and skills that will serve well as she grows the alumni association and leads it to new levels of advocacy for and support of the University."
Felt has worked at ISU the last 17 years, three years for the Bengal Foundation and 14 as director of annual giving and coordinator for the I Love ISU campaign.
"I'm a true Bengal and am honored to be selected to help lead the Idaho State University Office of Alumni Relations to a new level of accomplishment and service," Felt said. "Our top priority is to get our new Alumni and Advancement Center built."
The Office of Alumni Relations has plans to build the new center adjacent to Holt Arena at the corner of Memorial Drive and East Bonneville on the ISU Pocatello campus.
"We're doing everything we can to raise funds for this wonderful facility and are boosting our efforts at doing so," said Felt, who started her new role with ISU in mid June. "This building is one of the key factors in our efforts to expand and grow our ISU Alumni Association."
The new director said the Office of Alumni Relations will strive to do an even better job connecting with and engaging Idaho State alumni locally and across the nation, doing more outreach in establishing clubs, chapters and professional group connections. Other goals include keeping young alumni connected to the university after graduation, improved and greater use of social media, expanding affinity programs and creating a career services program for all alumni.
"We want to give our alumni more reasons to get involved and stay involved with our fine University," Felt said.
Felt earned a Bachelor of Business Administration Degree in marketing from Idaho State University in 1970. She was in the banking industry for 21 years prior to joining ISU.
Felt is "the proud daughter" of the late Elle and Marye Hopkins, both natives of Pocatello. She is a graduate of Pocatello High School. Felt has two sons, Brian and Brett, and two grandsons, Andrew and Ayden.
Her ties to the Pocatello community are many. She is a member of the Pocatello Chamber of Commerce and is a past Chief of Chiefs for the Pocatello Chiefs. She is a member and former board member of the Pocatello Rotary Club, and belongs to the ISU Alumni Association.
Felt replaces former director Pauline Thiros, the latter of whom is now director of planned giving for the ISU Foundation and fundraiser for the ISU Alumni Association.
For more on the ISU Alumni Association, visit www.isu.edu/alumni/index.shtml.
###
---
Categories: