Idaho State University's Hundley receives Fulbright research grant to complete study of deaf in Nepal
May 3, 2010
ISU Marketing and Communications
Idaho State University master's student Bethany Hundley has been awarded a Fulbright Full Research Scholarship to complete a two-part study on the deaf and deaf literacy in Nepal during the 2010-11 academic school year.
Hundley – who is 80 percent deaf herself, continues to lose hearing and communicates verbally primarily through lip reading – will travel to a deaf school outside Kathmandu and reside there from August through December prior to residing in a rural village to conduct a community study of deafness from January to May.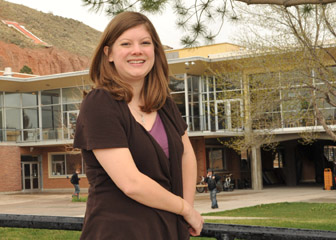 "The purpose of my two-part study is to discover the way in which literacy is taught to deaf students in academic settings in Nepal, as well as how this education translates back to the rural villages from which the student comes," Hundley said.
Hundley, 25, is scheduled to graduate from Idaho State University in August with an interdisciplinary master's degree in deaf education, with an emphasis in literacy, from the Department of Communication Sciences and Disorders and Education of the Deaf in the Kasiska College of Health Professions, and the Department of School Psychology Literacy and Special Education in the ISU College of Education.
Hundley is studying the Nepalese language now and will also take an intensive course while in Nepal. Hundley, who is fluent in American Sign Language, is also studying Nepalese sign language now in the United States and will study Nepalese sign language by immersion while working at the deaf school there. She will be working in affiliation with The Rose International Fund for Children.
"It is surprising how similar Nepalese and American Sign Language are," said Hundley in a recent interview. "One of the challenges in Nepal and other countries as well, is that the Nepali Sign Language that the students learn in a government funded school may be different than the 'home' sign language they use in the village or region they come from. I'll be exploring that in my research."
The Idaho State University student will be doing more than mastering an oral and sign foreign language. She will also potentially be dealing with and trying to change some negative cultural viewpoints of deafness that can exist in some areas of Nepal.
"I think this will be a wonderful opportunity to work there to change the perception of this disability in Nepal," Hundley said. "I will be working to make a positive perception of 'differently-abled' people. I am so excited about being able to explore the deaf culture in Nepal. I am just hoping to make a difference."
Hundley, who attended high school in Delaware, came to Idaho State University two years ago to attend school closer to her parents, who had moved to Great Falls, Mont. Hundley earned a Bachelor of Arts Degree in philosophy from Roanoke College in Virginia, and has worked as a case manager for a home for boys in Covington, Va., and as a pre-school teacher for the Head Start Program in Virginia.
She was assisted in her efforts at receiving a Fulbright by Sharon Sieber, ISU professor of Spanish and ISU Campus Fulbright Program Advisor, and a previous recipient of a faculty Fulbright combined lecturer and research award to Colombia in 1999. Hundley also received help in completing her Fulbright application from her two primary advisors at ISU, professors David Mercaldo and Beverly Klug.
Hundley is ISU's fifth student Fulbright scholar in recent years.
"Bethany's grant is proof that the Fulbright is possible for anyone who has a dream and can pursue it with intensity and focus," Sieber said. "I am looking forward to working with some returning applicants as well as an entirely new group of students for the next competition cycle opening on May 1st."
As a Fulbrighter, Hundley will join the ranks of distinguished alumni of the program. Fulbright alumni have become heads of state, judges, ambassadors, cabinet ministers, CEOs, university presidents, journalists, artists, professors and teachers. They have been awarded thirty-seven Nobel Prizes. Since its inception more than 60 years ago, approximately 300,000 Fulbrighters have participated in the program.
The program, named for the late Sen. J. William Fulbright of Arkansas, is the U.S. government's flagship program in international educational exchange.
ISU students can apply for a Fulbright fellowship through the Fulbright Program Adviser if they are graduating seniors or have recently graduated from ISU. For more information in general on the Fulbright program, visit http://fulbright.state.gov/ or http://us.fulbrightonline.org/home.html.
For more information for applying for a Fulbright at ISU, contact Sieber at (208) 282-2883 or siebshar@isu.edu.
###
About Idaho State University
Idaho State University, a Carnegie-classified doctoral research institution founded in 1901, educates approximately 15,000 students per year in more than 280 programs. It is Idaho's lead institution in health professions and medical education. Its seven colleges engage in a broad range of innovative research, teaching, and learning in the natural and physical sciences, humanities, performing and visual arts, education, engineering, business, pharmacy, and technology. Visit ISU today at www.isu.edu.
---
Categories: