Idaho State University English Professor Jennifer Attebery selected as Fulbright Distinguished Chair
March 25, 2010
ISU Marketing and Communications
Jennifer Eastman Attebery, professor of English and director of the folklore program at Idaho State University, has been awarded the Fulbright Distinguished Chair in American Studies at Uppsala University in Uppsala, Sweden.
The Distinguished Chair position is co-hosted by the Swedish Institute for North American Studies and Uppsala University's Department of English.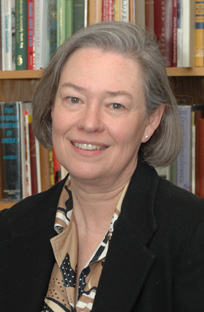 Attebery will travel to Uppsala for spring semester 2011 to lecture on American Studies and to pursue her research concerning Swedish immigrant folk culture, focusing on calendar customs. Her time at the Institute and English department will bring her into contact with scholars of the Swedish immigration and with resources in Swedish libraries and archives, including Uppsala's extensive folklore archives.
"I'm thrilled to be traveling to Uppsala," Attebery said. "Uppsala is the center for Swedish immigration and folklore studies with a wealth of resources in my fields of concentration."
Fulbright Distinguished Chair positions are a highly selective part of the Fulbright U.S. Senior Scholar Program, an international educational exchange program sponsored by the U.S. government with additional support from host nations. The Fulbright Distinguished Chairs Program awards are among the most prestigious appointments in the Fulbright Scholar Program and are awarded to candidates who are "eminent scholars and have a significant publication and teaching record."
"We are all very proud of Dr. Attebery," said ISU Provost Gary Olson. "This is indeed a high honor that brings great distinction to her and to ISU."
Idaho State University has had 15 Fulbright U.S. Senior Scholars among its faculty, five of them English faculty, including Attebery, who was a Fulbright Senior Scholar at Gothenburg University in 1998. Her husband, Brian Attebery, was a Fulbright Senior Scholar at Uppsala University in 1988. An internationally acclaimed scholar of fantasy and science fiction literature, Brian has already received invitations to lecture in Belgium, Poland, and Finland while the Atteberys are resident in Uppsala.
Jennifer Atteberry earned her Ph.D. in folklore and American studies at Indiana University in 1985. Her research focuses on folk culture of the Rocky Mountain West in the 19th and early 20th centuries, with an emphasis on ethnic groups. Her main contributions to these fields have been expanded understanding of the multicultural West and new attention to the personal letter as a vernacular form.
Attebery was recently selected to deliver the 2010 Fife Honor Lecture at Utah State University's Folklore Program, and she has been invited to present her research concerning immigrant letters later this spring at an international symposium, "The Migration Letter: Archiving Postal Era Intimacy," to be held in Minneapolis on May 17-18, sponsored by the University of Minnesota's Immigration History Research Center and the Institute for Global Studies as part of their joint Global REM (Race, Ethnicity, Migration) Program.
Attebery's peer-reviewed publications include three books. Among them is "Up in the Rocky Mountains: Writing the Swedish Immigrant Experience," published by University of Minnesota Press in 2007, reviewed in the Journal of Folklore Research as "a significant contribution to folklore and history."
Attebery's most recent publication, "Scandinavianism in the Rocky Mountain West, Pragmatic and Programmatic," will appear in the collection "Swedes and Norwegians in the U.S." edited by Dag Blanck and Philip Anderson, forthcoming from Minnesota Historical Society Press in 2010. Her articles have also been published by the refereed journals Scandinavian Studies, American Studies in Scandinavia, Journal of the Folklore Institute, and Pioneer America. Her book "Building Idaho" (University of Idaho Press, 1991) won the Idaho Book Award. She was an ISU Outstanding Researcher in 2008 and 2009.
###
About Idaho State University
Idaho State University, a Carnegie-classified doctoral research institution founded in 1901, educates approximately 14,000 students per year in more than 280 programs. It is Idaho's lead institution in health professions and medical education. Its seven colleges engage in a broad range of innovative research, teaching, and learning in the natural and physical sciences, humanities, performing and visual arts, education, engineering, business, pharmacy, and technology. Visit ISU today at www.isu.edu.
---
Categories: