Idaho State University emeritus sociology professor Aho reflects on 40-year career
April 30, 2010
ISU Marketing and Communications
During his 40-year teaching and academic career at Idaho State University, James Aho, emeritus professor of sociology, has penned eight books on a broad spectrum of topics.
It is only fitting then, that since retiring from ISU in December, he has been writing a ninth book, with a working title of "Sociological Trespasses: Interrogating Sin and Flesh."
"One reason I've been looking forward to retiring," said the 67-year-old professor, "is that it will afford me more time to write."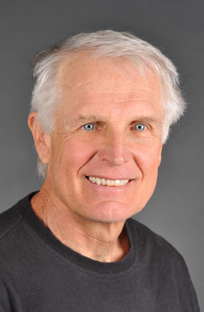 The eight books he penned have the following titles: "German Realpolitik and American Sociology" (1975), "Religious Mythology and the Art of War" (1981), "The Politics of Righteousness (1990), "This Thing of Darkness" (1994), "The Things of this World" (1999), "The Orifice As Sacrificial Site" (2002), "Confession and Bookkeeping" (2005), and "Body Matters" (2008) co-authored with his son, Kevin Aho.
James Aho has also authored numerous articles, book chapters, encyclopedia entries and reviews.
He came to Idaho State University during the 1969-70 school year, while earning his doctorate in sociology from Washington State University, and became a full professor in 1982.
"I appreciate the opportunities working at ISU afforded me," Aho said. "My work style is to work slowly and methodically, deeply and completely. This has been a wonderful, supportive place for me to work."
His research interest has ranged from comparative religions and warfare, to right-wing extremism in Idaho, to the sociology of suicide in Idaho.
Aho's work and expertise on hate groups in Idaho in particular, garnered him media attention in the 1990s and early 2000s. He was featured in a number of prominent broadcast interviews, including on the PBS McNeil/Lehrer news program, BBC, Associated Press Radio, National Public Radio, Monitor Public Radio, ZDK (Germany), NHK (Japan), Dutch Public Radio and TV, CNN, plus countless local radio and TV stations. He had interviews published in a wide variety of newspapers, including the Wall Street Journal, New York Times and USA Today, to name only a few.
"I spent a lot of years trying to understand the people who are attracted to violence, but I began to feel like my fascination with violence made me partly responsible for the violence in society," Aho said. "I think I lost my sociological objectivity, and thought is was time to end my efforts trying to understanding it, and move on to other scholarly objectives."
But scholarly work was only a portion of his job duties at ISU. Aho figures he has taught around 240 classes at the University. His primary areas of teaching have been religion, violence, social phenomenology and the body.
Aho said he's noticed four major changes in the student body. For starters, the university has grown dramatically. In 1970, the fall enrollment was 6,355; in fall 2009 Idaho State University had 15,500 students. The student body has changed from being comprised mostly of males, to featuring a current student body that has more females than males. Overall, students are older and more of them have families. Aho has noticed students are also accruing significantly more debt earning their degrees, which in turn has made students more career orientated and "with less inclination to delve into the liberal arts."
He has received several prominent awards, most recently being honored as 2009 Idaho State University Distinguished Teacher. Other ISU awards include being honored as an ISU Distinguished Researcher in 1993 and a Master Teacher in 2006 and 2009.
External awards he's received include the Gustavus Myers Award for the best study of human rights in North America in 1994 and Pacific Sociological Association Award in 1996. He was nominated for the Edward Hayden Humanities Book Award, American Political Psychology Book Award and the Victor Turner Humanities Book Award.
Though his academic and research interests varied during his career, his love for Pocatello and the surrounding area have remained constant.
"We love this area for its four distinct seasons and its accessibility to outdoor activities, whether backpacking in the summer, or skiing in the winter," Aho said. "And, it has just been a wonderful place for my wife, Margaret, and I to live and raise our sons."
All three of Aho's sons, Ken, Kevin and Kyle, attended Idaho State University for at least part of their academic careers, studying biology, philosophy and music, respectively.
###
About Idaho State University
Idaho State University, a Carnegie-classified doctoral research institution founded in 1901, educates approximately 15,000 students per year in more than 280 programs. It is Idaho's lead institution in health professions and medical education. Its seven colleges engage in a broad range of innovative research, teaching, and learning in the natural and physical sciences, humanities, performing and visual arts, education, engineering, business, pharmacy, and technology. Visit ISU today at www.isu.edu.
---
Categories: