Idaho State University dance faculty, students honored at regional conference
March 29, 2010
ISU Marketing and Communications
"Push," a solo dance choreographed by Joséphine A. Garibaldi, director of dance at Idaho State University and performed by ISU theatre and dance graduate student Bridget Close, was performed in the Northwest Regional American College Dance Festival Association (ACDFA) Gala concert in late March.
This dance piece was selected by renowned dance artists Ze'eva Cohen of Princeton University, Adam Sklute, artistic director of Ballet West, Salt Lake City, Utah, and Helanius Wilkins, artistic director of Edgeworks, Washington, D.C. "Push" was also named as the Second Alternate selection for the prestigious National ACDFA Gala Concert at the Kennedy Center in Washington, D.C. "Push" was selected from a pool of 40 dance works submitted by 23 universities.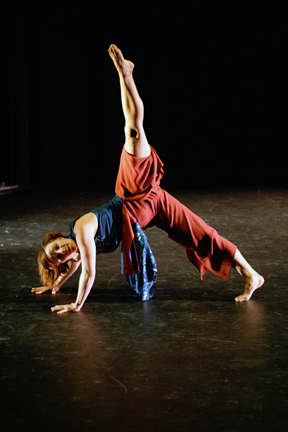 Another ISU theatre/dance graduate student Omar Raudez, performing "TORN," choreographed by ISU undergraduate students Raudez and Victor Gomez, received praise from the adjudicators for his impressive technical prowess and passionate performance. Undergraduate student Dantzel Withers, selected by the artist adjudicators upon the basis of an essay she submitted, was one of three student panelists participating with the professional artist adjudicators in a session examining the adjudication process.
"This is a tremendous affirmation for our program as we are on the verge of submitting a proposal to the State Board of Education for the creation of a dance major at Idaho State University," Garibaldi said.
Dance ISU has developed a reputation for producing quality work with passionate students of the highest caliber amongst universities and colleges throughout the nation with established dance departments that boast graduate and undergraduate degree programs.
"Our students were measured alongside renowned universities," Garibaldi said. "With only a minor, Dance ISU was invited to perform in the most recent National Gala Concert in 2008 and is Second Alternate this year; clearly, we are nationally competitive. Not only am I am so very proud of the work we do at ISU, I am convinced that with the only dance major degree program in performance/choreography offered in the state, the dance program at Idaho State University is poised to become a primary dance center for this region."
Students also performed "The Familiarity in the Unfamiliar," by recent ISU graduate Megan Walker. Faculty members Garibaldi and Paul Zmolek presented master classes in contemporary modern dance, ballet and physical theatre to the festival participants.
Over all, 16 students and two faculty from the ISU Theatre and Dance Department participated in the ACDFA Northwest Conference March 17-20 at Weber State University in Ogden, Utah. This year's festival boasted more than 375 students from 23 universities and colleges from the Northwest region.
For more information:
ACDFA National Website: http://www.acdfa.org/
ACDFA Regional Website: http://www.regonline.com/builder/site/Default.aspx?eventid=747502
About Idaho State University
Idaho State University, a Carnegie-classified doctoral research institution founded in 1901, educates approximately 14,000 students per year in more than 280 programs. It is Idaho's lead institution in health professions and medical education. Its seven colleges engage in a broad range of innovative research, teaching, and learning in the natural and physical sciences, humanities, performing and visual arts, education, engineering, business, pharmacy, and technology. Visit ISU today at www.isu.edu.
---
Categories: